By Louise Hawson
Categories Asia, China, Food and drink, Hong Kong
Louise Hawson shows how to enjoy Hong Kong on next to nix.
If you're cashed up, Hong Kong is a great place to visit. But should you find yourself in this shopper's paradise with barely a brass razoo, here are some suggestions to ensure you still enjoy your stay:
Catch a tram from Central heading east all the way to Shau Kei Wan. Aside from it only costing HK$2, it's a great way to get to know the locals – the tram ride takes more than an hour, plenty of time to strike up a conversation. And you end up far from the tourist traps in "real" Hong Kong.
Eat like the locals. Which doesn't mean going the whole hog and eating great wads of the glazed red meat you see hanging around everywhere. Stick to noodles, fish balls and the standard rice dishes and you'll save yourself a packet.
You don't have to sleep or eat in the grand old hotels (Mandarin, Peninsula) to enjoy their genteel, luxurious atmosphere. Frock up, pack a good book and park yourself somewhere inconspicuous. If you can cough up the dough for a cup of tea, do so – nothing like a little fine china, elegant silverware and well-stuffed upholstery to make a girl feel special.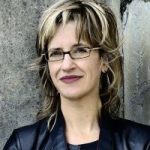 Louise Hawson has been involved in various forms of visual communication for more than 20 years, including advertising (as a copywriter/art director), independent documentary making and TV producing. In 2009-10, she embarked on her first photographic blog project, 52 Suburbs around Sydney, which became a book (published by New South Publishing) and exhibition at the Museum of Sydney in 2011. In 2012, she did a follow-up project, 52 Suburbs Around the World, which also evolved into an exhibition at the Museum of Sydney (July-November 2013) and her current book.
Read more on Asia, China, Food and drink, Hong Kong
Comments