By Sue Ostler
Categories Asia, Destinations, Kota Kinabalu, Malaysia
If you snapped up a bargainista flight to Kuala Lumpur, head to nearby Kota Kinabalu. It offers delicious local food, a mini-industry built on day spas, and a wonderful orangutang sanctuary. Author, journalist, intrepid explorer and Flirt Diva Sue Ostler finds out more.
Kota Kinabalu (KK) is situated on the tropical island of Borneo.  Most people go there to climb the almighty Mount Kinabalu. That's why I visited with my Borneo-born boyfriend. But I chickened out. Too much rain and mist and reports of freezing weather at the top of the mountain will frighten you off if you are a wuss. And it turns out I am. Never mind because there's plenty else to do in KK, like eat and shop and eat some more, and did I mention – eat?
The food options are truly extraordinary, from the many food courts and hawker's stalls and night markets found on every street corner, to a wide choice of elegant eating options.  You could die here happily here knowing that you've found food heaven. Temptation – from nasi lemak to roti bread and rich, gooey char kuey teow and juicy satays, noodles, dumplings and spicy seafood – lurks on every corner. And the sweets, ah the sweets, if you've a sweet tooth, KK can do you in. Rolled around on mobile carts, sold outside shopping malls and coffee shops and hotel foyers, you'll find as I did that resistance is futile. It make my mouth water just thinking about it.
While the shopping may not be in the league of nearby Kuala Lumpur, the choices alone make it pretty damn good – and a hell of a lot cheaper than KL. Shopping malls offer every commodity you can dream of. If you're a fan of the day spa, you will find you've hit the jackpot, since possibly you will have never seen so many clustered together in such a small area. The sheer number of salons ensures that relentless price wars exist between them, making for unbelievable bargains. If getting pampered from head to toe takes your fancy, KK's your girl.
If you can stop obsessing about pampering, eating and bargain shopping for a moment and plan a day trip, the perfect place for your nature kick is the Sepilok Orangutan Rehabilitation Centre, where feeding time gives you the chance to observe these truly magnificent and heartbreakingly beautiful creatures up close and personal. Save another day for a visit to the nearby National park.
You might not think of KK as the most obvious South East Asian city to visit, but if you're looking for somewhere low-key to relax, indulge, shop and eat – and you're happiest when you're surrounded by Disney style nature parks, incredibly friendly locals and keen prices – KK's for you.  It may not have the high gloss of KL but it promises to reward with a more soothing visit.
Photo: Flickr CC: thienzieyung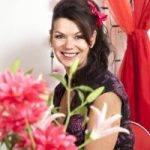 Sue Ostler is the associate publisher of "Rolling Stone" in Australia. She speaks on sex and relationships and hosts "Life in the Singles Lane" and "Vodka & Chocolate Therapy" singles seminars. She is the author of "Get Over It! "
Read more on Asia, Destinations, Kota Kinabalu, Malaysia
Comments