By Pip Cummings
Categories Destinations, Krabi, Thailand
Pip Cummings discovers a cave decorated with marigolds, incense and lingams in Krabi.
If there is paradise on earth, it's to be found on the Railay Peninsula in Krabi, Southern Thailand, where the beach meets the jungle and sheer limestone islands rise from the sea.
If you can't book at one of the resorts adjoining the beach, Holiday goddesses should still plan to pack a picnic lunch and take one of the ubiquitous longboats to the popular Phra Nang tourist beach, accessible only by water from Ao Nang. Trees overhang the upper reaches of the white sand and shade can also be found under the monumental cliffs overhanging the beach's far end, which drip with gorgeous limestone stalactites.
The sputtering of the longboats' outboard motors provide the only "traffic noise", as the headlands and jungle render the peninsula inaccessible to the rest of the mainland, and hawkers were long ago dissuaded from abutting plying their trade on the sand by the resorts, aiming to create a haven for their guests. A walk or swim up the beach, through the warm Andaman waters, will be rewarded by one of the area's quirkier attractions.
Garlands of marigolds adorn the interior of the impressive Phra Nang Cave, the site of a local shrine. Known locally as the Princess Cave, the cool, dark vault is scented by the smoke of many incense sticks and – most surprisingly – overflows with giant wooden phalluses (lingams), left here by fishermen in the hope of safe passage.
There are two main variations of the legend of Phra Nang. One holds she was the wife of a fisherman lost at sea, who held a vigil on this site until her death. Over time she is said to have become a soothsayer, who dispensed advice to the locals with oracle-like insight. The other popular iteration of Phra Nang is as the spirit of an Indian princess who lost her life in a nearby shipwreck.
Because of the powerful imagery of the lingams, the site has also come to be associated with fertility and virility. In addition to the sanctuary already provided by the surrounding natural beauty, and in spite of its appeal to tourists, the cave has a strong spiritual presence. You might consider including some flowers or incense or other small offering in your picnic basket, and make your own small offering to Phra Nang and prayer for good luck.
Photography by Pip Cummings: The Princess Cave at Phra Nang beach in southern Thailand's Krabi.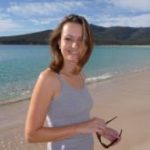 Pip Cummings is based in New York. She has worked as a Deputy Editor at McHugh Media and Fairfax Media, and was Curator and Editor at TEDx in Sydney from 2010-2011.
Read more on Destinations, Krabi, Thailand
Comments