By Vicki Arkoff
Categories Channel Islands, England, Europe, France, London, Portugal
The good ship Crystal Serenity has embarked on her special 25th Anniversary President's voyage of Western Europe, hosted by Crystal Cruises President Edie Rodriguez and starring a very special culinary guest, Master Chef Nobu Matsuhisa, one of the world's most respected and influential chefs.
Lucky guests set sail from Lisbon and are now en route to London for a 14-day cruise docking in three countries. Ports of call are Lisbon and Oporto/Leizoes in Portugal; St-Jean-de-Luz, France; two nights docked at Bordeaux/Bassens, France; Bordeax, France; Brest, France; St-Malo, France; Guernsey/St. Peter Port, Channel Islands; Honfleur, France; and Dover (London), England. Special President's shore excursions include a Douro River cruise and port wine tasting, a glimpse into haute couture at the Cristóbal Balenciaga Museum, a cooking class at Le Saint-James Restaurant, sightseeing at Médoc and St-Emilion by helicopter, and a Guernsey coast cycling experience.
Onboard special events include special revues and concerts, and special Crystal Visions Enrichment Program speakers, namely celebrated newsmen Ken Rees, Shelby Coffey, and Stephen Cole. Master Chef Matsuhisa joins in the celebration by preparing a lavish "Omakase" (Chef's Choice) dinner for on-board guests, as well as giving cooking demonstrations and hosting sake tasting events with Sake Master Fumio Hazu.
To whet your appetite, here's a photo gallery of some of Master Chef Matsuhisa's mouth-watering on-board Omakase creations. Try to refrain from licking the screen. Instead, you should consider booking a 2016 Crystal Cruise voyage to indulge in the ships' specialty restaurants — Silk Road and the Sushi Bar — featuring Chef Matsuhisa's sea-faring seafood cuisine.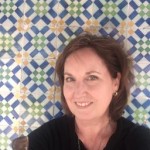 Vicki Arkoff's magazine work includes MAD, Daily Variety and Entertainment Weekly. She is the author of authorised biographies on Paul McCartney and Frank Sinatra.
Read more on Channel Islands, England, Europe, France, London, Portugal
Comments