By Nina McGrath
Categories Dublin, Europe, Ireland
Tall tales at the home of the Book of Kells
Trinity College Dublin is Ireland's oldest University. Amongst the graduates are writers Jonathan Swift, Bram Stoker, Oscar Wilde, Samuel Beckett, three Presidents of Ireland and even a Premier of New Zealand.
Take a student-led guided tour of the college campus to take in the art, architecture and tall tales. See the sculpture of George Salmon, the provost of the College from 1888 to 1904. Salmon fought bitterly to keep women out of the College, threatening to admit them 'over my dead body'. He fulfilled this promise by dropping dead shortly after the College was finally open to female students. To add insult to injury his statue is dressed in women's clothes one day a year.
Bram Stoker, author of Dracula studied at Trinity College and may have himself been spooked by the ghost of a professor that haunts one of the residences. A group of disgruntled students were throwing rocks at his window and he retaliated by sticking his rifle out the window and letting off a couple of shots. The students scattered, but soon returned with their own firearms and a gunfight ensued in which the Professor was killed. The incident was deemed a prank that spiralled out of control and the students were not punished. In protest, the Professor haunts the residence to this day.
Stroll through the atmospheric Trinity College Library. A dark wooden ceiling arches high over the vast hall which is lined on both sides by both a ground and mezzanine level containing rows of wooden bookshelves marked with gold lettering. Marble busts of College alumni guard the ends of the ground floor rows. The library is unusual in that the books were arranged by height; wooden ladders are built in to allow the librarians to reach the smaller books on the highest shelves. The result is aesthetically pleasing, but must make it difficult to locate the books.
One book that is easy to find is the Book of Kells, an elaborately decorated Latin manuscript of the four gospels which was produced early in the 9th century by the monks of Iona. The book is magnificent; the pages are so much more than mere lines of text. Meticulously copied by hand and embellished with richly coloured historiated initials and other miniatures. The full page illustrations are breath taking.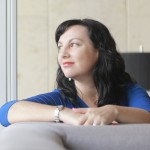 Nina is the author of Cash Cow. An Australian travel writer, Nina has lived in London and Hong Kong and travelled extensively in Europe and Asia. For more articles on travel and expat experiences see www.ninamcgrath.com.
Read more on Dublin, Europe, Ireland
Comments