By Holiday Goddess Editors
Categories England
HOW TO BEAT #$% BRITISH TRAINS
Here is the good news about British trains. You can still take a little bottle of Beaujolais from Marks & Spencer and a salad, and take a copy of Vogue Japan and flip out a tray table and dine/read for the whole trip.
Many train companies now have free wi-fi onboard too and power connections for your laptop at your seat.
And now for the bad news…the passing of the years has brought no improvement in rip-off prices, like this, below. The cheapest possible London-Edinburgh ticket? Still more than flying Sydney-Melbourne.
THE BAD NEWS ABOUT BRITISH TRAINS
We all know the bad news about British trains. You may be forced to sit on the floor next to a smelly loo, despite paying a lot of money for your 'seat' ticket. These photographs were taken on an East Coast train trip from London to Edinburgh in Summer. Note the way luggage has been piled up against space allocated for wheelchair users. (Virgin has since taken the route over). Unfortunately, being forced to stand/sit on the floor is still part of life on far too many British train networks.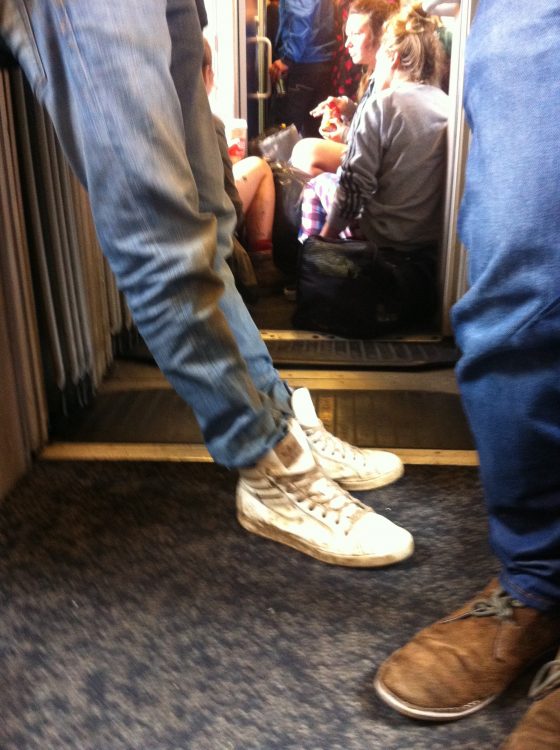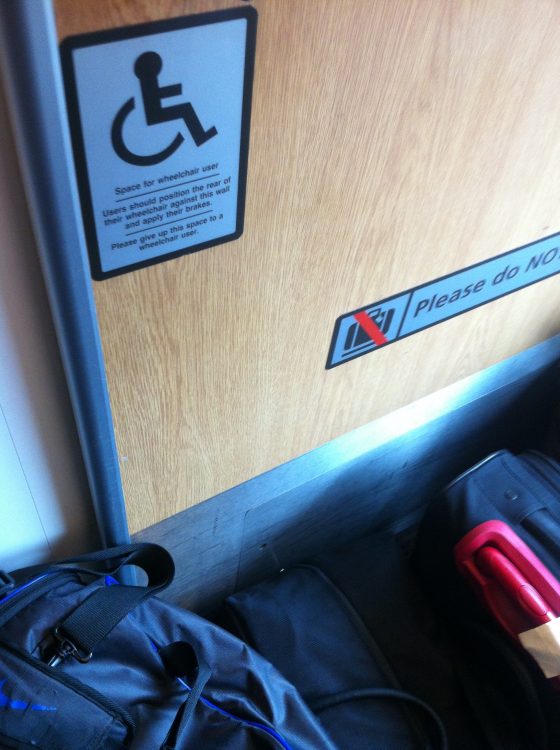 THE GOOD NEWS ABOUT BRITISH TRAINS

The romance of train travel is not lost. Brighton and Kings Cross St. Pancras stations provide pianos for passengers to play, while you wait. Paddington station has a lovely bronze statue of Paddington Bear to farewell you. The classic big stations like Victoria offer you sushi on departure and some historic architecture to gaze on. Victoria Station has also dropped its charges for using the loo. It's the little things!
Yet – the truth is, British trains can be a dreadful rip-off. So. Here's the scoop on how to beat British trains and get the best from them. Lower prices, a seat (or two) to yourself and a great escape, instead of the misery so many Brits complain about. That's got to be worth singing about (at Brighton Station, below, on the platform).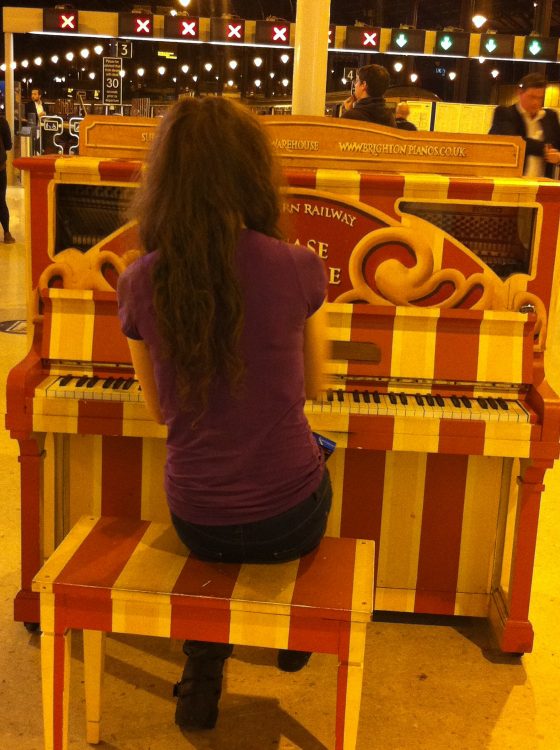 AVOID HOLIDAYS, WEEKENDS AND RUSH HOURS
Avoid the final week of October, the Christmas break, middle to end of February, Easter (the first 1-2 weeks of April), late May to early June – and particularly the Summer holiday, from late July covering all of August. Rush Hour is 7am through 10am and 4pm to 7pm.
Travel Monday-Friday after 10am and avoid holiday periods. You could easily end up with a half-empty carriage and two seats to yourself.
TRAVELLING IN SUMMER – TIPS
If you are travelling in July and August, board the train early (be first through the barriers when the platform is announced on the board) and walk as fast as you can to the last carriage. You'll have a much better chance of landing a seat. You'll see many a businessman doing just that. Copy them.
MORE TIPS
Just because you had a trolley service once (tea, coffee, sandwiches and cake is wheeled past you for a fee) does not mean it will be there twice. If it's a long trip then BYO food and drink. Service can be flakey.
SAVE ALL YOUR TICKETS AND RECEIPTS
Some train companies, like South Western Railway, will charge you for a whole new ticket, if you make the mistake of throwing away the old bits of orange card you picked up on the first leg of your long-gone trip. Keep everything.
BOOK WEEKS/MONTHS AHEAD
Don't just turn up at the station to buy a ticket, because you will be shocked at the price. Always book weeks/months ahead and do it online. You then take the card you booked with, and the number you are given, and queue to use the machines at the station. Next tip?
ALLOW HALF AN HOUR BEFORE DEPARTURE
The queues at machines can be long if only one of them is working, or if there is a big event on. Allow half an hour before departure. Oh, and always travel with photocopies of your credit cards, because if you lose one, you will need to produce evidence, along with your reservation number, at the train station.
GO BEFORE YOU GO
One of the things you can do in your half hour before departure is 'go before you go' and use the station loo. Toilets on trains can smell.
USE GOPILI
At Gopili.co.uk you can search buses, car share, trains and planes for the cheapest, fastest way to get from London to Paris, or Liverpool to Brighton. The train may not always be your best option. Gopili compares train fares but also suggests the bus!
One of the worst rip-offs and most popular trips is London to Manchester which can cost as much as £338 (nearly AUD$600/US$440 unless you use fare comparison websites
Using Gopili.co.uk the fare comes down to around £50 return, for this two hour train trip.
The average traveller to Britain never looks beyond the first page of Google and thus may end up using The Trainline. Before you try The Trainline, please look at all the bad reviews. You have been warned!
GET MONEY BACK ON CANCELLED OR DELAYED TRAINS
Most people don't try to get their money back on cancelled or delayed trains, but you should. Here's how.
CHECK BEFORE YOU PAY FOR ON-BOARD WI-FI
As every traveller in Britain knows, the promise of wi-fi is often a downright untruth, and it becomes even more frustrating if you have used your credit-card to pay for internet access, then find yourself with a dud. You will then have to go through the laborious British train complaints system to get your money back. Check before you pay up on a long journey. A quick glance at Google should show you if other people on your route are moaning about the unreliable or 'fail' wi-fi service.
FOR ZEN MASTERS OF BRITISH TRAIN TRAVEL – SPLIT TICKETING
Don't worry too much about what split ticketing actually means, just try the websites. We did, and Bournemouth to London, from Aunt Sarah's house back to the city, came down from a whopping £50.80 to just £14.30. The Daily Telegraph has the best explanation of how to do it and why it works –
"It sometimes works out much cheaper to buy two or more tickets for different connecting segments of your journey rather than one ticket for the whole journey. This is particularly true on long-distance trips and you can save up to 90 per cent. The train has to call at a station named on a ticket, but there's no need to get off or change. To unearth split-ticketing deals, turn to raileasy.co.uk, splityourticket.co.uk and newcomer ticketclever.com. "
So there you are. If you are prepared to do a little bit of work to beat the famously bad British trains, you can pay a fair fare, have enough time to wave goodbye to Paddington at Paddington Station, pick up some sushi and water for the trip, grab a newspaper and luxuriate on your trip to Bath, watching some of the most beautiful countryside in the world roll past!
Story Jessica Adams
Holiday Goddess. Travel for Less.
Read more on England
Comments