By Holiday Goddess Editors
Categories Europe, Paris
Galeries Lafayette at 40, Boulevard Haussmann is so famous that you might assume there are no secrets left. We have five. And perhaps the biggest secret of all, is that this dazzling retail legend does not have to be expensive. 
ONE – MEDIA AND TRAVEL PROFESSIONAL PERKS
If you work in travel, tourism or media outside France, you will get special treatment at the store.  Special offers and VIP service are available on enquiry.  If you get stuck in Paris with a practical problem or question, GL may also be able to help you – c'est une miracle.

TWO – ALTERATIONS BY FRENCH TAILORS FOR 8 EUROS
If you purchase something that doesn't quite fit, or you just want superb French tailoring, you can leave it with the store. 
Simple alterations can be turned around in two hours for  €20 or in four days (excluding sales periods) for  €8. Complex alterations in two hours are  €32 and in four days, €20. Here's the other secret. The people at GL will also alter your old clothes, at a higher price.
THREE  – FRENCH CULT PRESENTS FOR UNDER $10
Okay, so there's a souvenir department at GL. If you suspect the women in your world don't really want a plastic Eiffel Tower, though, you're probably right. Head for the Durance perfumed sachets, which are great for luggage or wardrobes, weigh next to nothing, take up very little space in your bags but will be greeted with rapturous sighs. Around $5 per sachet.
Esteban incense is also wonderful – again, it takes up very little space, weighs almost nothing, and you can snap up a packet for well under $10 and even less at sales time. All French, all at Galeries Lafayette. No plastic Eiffel Towers need be involved.
FOUR  – THE $40 FRENCH MANICURE
What is a French manicure? Well, you may as well have one in Paris to find out. GL has a luxurious Decleor salon with facials, body treatments, leg and bikini wax – however, when in France…enjoy a manicure where your fingernails are painted pale pink, with a white band at the tip.  Are you under 20? Prices are 20% less.
FIVE – DINE LIKE COCO CHANEL
Angelina is the most famous tea house in Paris (partly because Coco Chanel dined there) and the flagship is at 226 Rue de Rivoli – with a queue. Fortunately for you, there is a stunning, spacious branch inside GL as well.
Angelina is known primarily for its almost pudding-like hot chocolate (chocolat l'africain) and for its Mont Blanc dessert.  You can see the Mont Blanc pictured above. It's almost too much for one person. 
The salon was founded in 1903 and Marcel Proust was also a fan. The Mont Blanc also dates from this time. It is composed of meringue, whipped cream and chestnut cream vermicelli. To find a table at the window easily, visit the GL branch of Angelina outside predictable peak times – 10.30am is pretty good, we find.
READ MORE IN THE HOLIDAY GODDESS GUIDE
You can read more about Galeries Lafayette in The Holiday Goddess Guide to Paris, available now for your iPad.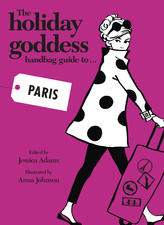 Edited by Jessica Adams and Anna Johnson.
Holiday Goddess. Travel for Less.
Comments