By Sue Ostler
Categories Destinations, Europe, Greece, Skiathos
Sue Ostler tries beautiful Skiathos off-peak and discovers the joys of GMT – Greek Maybe Time.
For an island that swells from a low-season population of 7,000 to an almighty 100,000 in the high-season, you need to plan your visit accordingly. Not everyone wants to visit in low-season but I had two good reasons: a birthday to celebrate and a generous boyfriend. So it was this, combined with an aversion to swarms of hormonal tourists and relentless humidity, that saw this Goddess sail in for an early May visit. The timing couldn't have been better.
The place was bathed in spring sunshine and the locals fresh and flirty from their annual hiatus. The restaurateurs and bar operators were super keen for the business and happy to seduce with treats and freebies – a dish of the creamiest yoghurt slathered with dollops of honey here; a shot of Sambuca there; and please – you must try this dreamy, creamy cheese pastry. As far as tactics go, it was an effective one.
The only downside with visiting during low-season was that Sleeping Beauty had not quite woken from its slumber. As a result many queries about when the water taxis were operating, or when that fancy new Taverna was opening were met with the bog standard, "Tomorrow, tomorrow, later, next week." We were operating in what the locals slyly referred to as GMT time – Greek Maybe Time!
But one doesn't visit the Greek Islands in order to rush about, and as long as one is not in a terrible hurry, the island presents an incredibly idyllic chance to explore every drop dead gorgeous nook and cranny at an almost unbelievably slow pace, which during high season, one can only imagine, there is no such luxury.
Nestled within the Sporades Islands, Skiathos is famed for both its beauty, the location where much of the film Mama Mia was set; and the heaving party vibe – the Ibiza of the North West Agean Sea. Dozens upon dozens of tiny bars and taverns are dotted along the water's edge overlooking those instantly recognisable shimmering delights from the film. Low ceilinged, white washed buildings sprawled along the boardwalk beckoned tantalisingly with low sofas and giant pastel coloured cushions; billowing with canopies, fairy lights and tea light candles the bar vista lit up the harbour for as far as the eye could see and came to life with the endless charm of the locals who pulled out all the stops in persuading you to stop, "just for one…"
We stayed at the beautiful Villa Apollon, in the Achladies area, a spacious one bedroom apartment with private patio and jaw-dropping ocean views. Located about 3 km from the main town of Skiathos and a 2 minute walk from the magical beach of Achladies down below it couldn't have served us better.
A typical day involved waking up to a pot of heart pounding coffee and a full-size breakfast served up alfresco by our wonderful hosts Dounia and the Captain. It was difficult dragging ourselves away from the dizzying terrace views but it had to be done. Mooching across the road and down a rather steep hill it was worth it when we found Achladies which felt like our own personal beach. There we got our snooze, swim and sun-bed fix before setting off for the 30-minute jaunt into the town centre (with the regular buses on a completely irregular timetable during low-season, the only options were walking or taxi.)
Down at the Old Harbour you've got any choice of water sports or activities, but if you don't feel particularly energetic, and we didn't, you can opt to Island Hop with day-tours out to the neighbouring islands. We grabbed the opportunity to sail out to some of the world's most picturesque and deserted beaches and gawp at the vista. We ate fresh fish, drank more vino and traced the dizzying gorgeousness as seen in Mama Mia to the amazing chapel on the rocks where the wedding ceremony actually took place. Real live film history here folks! After a taxing day of drifting sublimely, sightseeing, swimming and snorkelling, it was time to sail back into town and settle down for Happy Hour.
Ah, Happy Hour in Skiaothos – this is where the magic begins. Where the white wine, or liquid sunshine, as the locals call it, is the star of the show. Afterwards when the hunger pangs kick in, it's time to venture back into the winding white washed heavens beyond to pick from a never ending choice of delicious food options from the ubiquitous Souvlaki hole-in-the-wall to full blown 5-star restaurants and every imaginable variety of seafood deliciousness in-between.
Visit Skiathos in high-season if you want to party your head off, or visit in low-season if you want to lose yourself in a sleepy world of pure unadulterated romance.
Photo: Flickr CC: j-e-s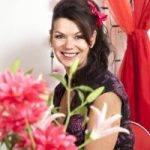 Sue Ostler is the associate publisher of "Rolling Stone" in Australia. She speaks on sex and relationships and hosts "Life in the Singles Lane" and "Vodka & Chocolate Therapy" singles seminars. She is the author of "Get Over It! "
Read more on Destinations, Europe, Greece, Skiathos
Comments