By Vicki Arkoff
Categories Cultural, Food and drink, Portugal, Spain, Tours, Valencia
Holiday Goddess editor Vicki Arkoff took her first motor-coach tour & came face-to-face (snout-to-snout?) with the Iberian Peninsula's most drool-worthy delicacies.
Some things are worth traveling around the world for:  great sights, great sounds, and great experiences that engage all the senses. That's why culinary tourism is such a growing trend.  Great food and drink is always at the top of my list, and at the very top of that list is the most prized food in the world that one really needs to go to the source to fully appreciate: Jamon Iberico, a.k.a. iberico ham, Spain's most prized national delicacy. Costing $1,200 and up for a 15-pound leg, the highest grade is more pricey than champagne and more prized than truffles or caviar.
"It's one of the reasons I love this country," says global gastronaut Anthony Bourdain about Spain's legendary jamon, a melt-in-your-mouth dark red meat cured for three years, then served in paper-thin slices. Deeply flavorful, it's intensely packed with more umami flavor than Japan's Wagyu beef.  "It's pornographically good," Bourdain purrs. "To pass through Spain and not try this most traditional, most loved expression of Spanish history and culture is like letting the great love of one's life slip through one's fingers."
To make sure I didn't make that mistake on my trip to Spain and Portugal, I booked a premium all-inclusive tour led by Insight Vacations, a five-star luxury coach operator known for its first-class fleet of 40-passenger Mercedes- Benz motor-coaches, partnerships with superior hotels, insider access for private visits to extraordinary places, and appreciation for finer things in life. Insight Vacations knows Spain and Portugal intimately, so offers an ever-changing variety of itineraries including:  the 10-day "Spanish Gold" tour hitting five of Spain's major cities; the 11-day "Hidden Treasures of Portugal" country itinerary; the 12-day "Northern Spain" visiting the best of Barcelona, Madrid, Basque Country and the north coast; the 13-day "Iberian Elegance 2015" from Barcelona to Granada, Seville, Lisbon, Madrid and points in between; and the 14-day "Splendours of Andalucía and Morocco."
What would Bourdain do?  I decided he'd pick an Insight tour focused on the Iberian Peninsula, including a roadtrip across the Alentejo Plateau to the Spanish oak forests of Sierra de Aracena where black Iberian pigs called "pata negra" breed and feed on the acorns that give them their distinctive flavor. Not knowing what to expect, we pulled into the tiny white-walled village of Concepcion where life circles around two things: a large Catholic church, and Eiriz, the oldest jamon iberico farm and factory in southwest Spain where free-range pigs roam green meadows before hand-labor and time does the rest. But we didn't just stop to eat and buy.  Insight had a surprise planned.  A "vareado" herder took us into the idyllic oak grove to meet the black-hoofed pigs personally while he shook the trees with a long pole to shower the hungry herd with sweet acorn treats. They gobbled them up like candy from a piñata.
We were told how the best Iberian ham comes from the perfect combination of a pure-bred Iberian pig, natural food and traditional production, especially the long drying stages. That's when we were handed food-safety uniforms to wear for our insider tour of the ham's entire farm-to-table process. Members of the Eiriz-Martin family took us room to room to show us how and why they practice Eiriz's 200-year-old traditions. The salting process is critical to enrich the color, flavor and aroma and impede impurities, so the temperature is kept at 1-degree Celcius with 90% humidity to help the salt absorb evenly. "The ham and shoulder on top applies the pressure for the ones underneath, and gravity works. If it's too heavy it makes it too salty. It's a very delicate balance. " Next, the meat is hung on hooks in thick-walled rooms where they cure by drying naturally in fresh air for 18 months to three years.
Stepping back into the warm sunshine we were ecstatic to see tables filled with – you guessed it – plates and plates of Eiriz jamon slices worth their weight in gold. We would have gobbled them up like candy (oink, oink) but first the Martins gave us a ham-tasting lesson. Which one is the prized pure Iberian acorn shoulder, and which is from a pig that was also cereal-fed?  "Find out by letting it sit on the back of your tongue," we were instructed by founder Domingo Eíriz Dieguez's great-great grandson. "Savor it for 10 seconds to match the temperature of your mouth. Then bite it, eat it, take a little white wine to freshen your mouth, then start again. You will notice that one taste will last longer in your mouth than the other, one bites more, one is juicier, and one has more smell."  Once we devoured the jamon, there was also chorizo, salchichón, and lomito to try, plus local sheep and goat cheeses. We were stuffed like pigs.
This deliciously memorable visit was just one of the special experiences that the tour company calls "Insight Moments" (or rather #InsightMoments and #InsightIberia if you follow Instagram and Twitter's tweet-by-tweets).  The company changes and updates its tours constantly as they make fresh, off-the-beaten path discoveries that guests will remember for a lifetime.
"Spain and Portugal have so much to offer and are still undiscovered in many ways," says Insight Vacations CEO John S. Boulding, who joined our group for a few days. "People know the highlights – Madrid and Saville — but places like Evora aren't on the typical tour circuit.  My wife is Portuguese and she never knew about it, so even the local people haven't discovered some of the places we go. That's the exciting thing for me. In Spain and Portugal there's so much untapped. For that reason we've added Northern Spain to a lot of our itineraries. It's just fascinating."
Jamon iberico whetted our appetite for Spanish tastes, so over the next few days our tour director Toni Aguilar made sure we had the best of all the local specialties, including Seville's sweet churros con chocolate while being serenaded by gypsy street musicians, and a tapas dinner at lively El Rinconcillo, Seville's oldest restaurant serving everything from espinacas con garbanzos (chickpeas and spinach) to bacalao a la riojana (cod with wine sauce), and of course, jamon iberico.
In Portugal we filled a dockside restaurant for endless platters of local crab, lobster, clams, grilled prawns, and garlicky "guilho style" prawns; toured the original Pateis de Belem with the only bakery chef who knows the 100-year-old recipe for Lisbon's famous baked egg custard cups; sipped  Portuguese sour cherry Ginjinha liqueur served in chocolate cups; sipped Port and toured historic cellars with descendants of the legendary Fonseca winery founder; ate Dom Manolo's signature grilled chicken and sardines in seaside Cascais with 82-year-old Dom Manolo himself; nibbled chicharrón,  sheep's cheese and more jamon on a private barge while sailing along the border between Spain and Portugal in the shadow of the Monsaraz castle; and dined in a rural dot-on-the-map at an old olive oil factory reborn as an enigmatic restaurant/art gallery called Sem-fin, meaning "without end," for an astounding meal of endless-courses (including more jamon).  Every bite was an #InsightMoment that we couldn't wait to tweet about from the reclining seats of our Wi-Fi-equipped Mercedes coach.
Between meals, my tour group of 30 travelers from North America, Australia, Asia, England and South Africa, was driven all over the map by Helder Almeida (unanimously voted Portugal's most handsome man by us all), and nearly every stop was a memorable #IberiaMoment.  I'm lost for words to properly describe the awe we felt standing inside Evora's eerie Capela dos Ossos, a 16th Century church intricately decorated with the human bones of 5,000 monks.  Or taking in the overwhelming significance of Cordoba's medieval Alcazar de los Reyes Cristianos fortress and its massive 8th century Mezquita mosque, a Moorish jewel that holds traces Islamic, Christian, Catholic and Jewish history.
* * Stay onboard for Part 2 of Vicki's Iberian Journey  * *   www.insightvacations.com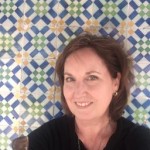 Vicki Arkoff's magazine work includes MAD, Daily Variety and Entertainment Weekly. She is the author of authorised biographies on Paul McCartney and Frank Sinatra.
Read more on Cultural, Food and drink, Portugal, Spain, Tours, Valencia
Comments