By Jane de Teliga
Categories Destinations, Europe, France, Paris
Jane de Teliga dives into a chic store where the proceeds go to children in Madagascar.
Full of thronging crowds, the hottest shop in Paris is merci. Visiting on a weekend, I fight my way past le tout Paris into the courtyard with its cute little cinquecento car bursting with merchandise. In a rambling old factory on the boulevard Beaumarchais in the very hip third arrondissement, you'll find an amazing multilevel space bursting with designer goodies and designer labels, anything from light bulbs to vintage clothing, from lampshades to perfumes. Plus it's got a great café in the basement and a flower shop (by famous French florist Christian Tortu) in the foyer.
But merci is no ordinary store. It is in fact the 21st century super chic version of a charity shop. Founded by Marie-France and Bernard Cohen last year after they sold their legendary children's wear label Bonpoint, merci is their way of giving. After the costs are met, 100 percent of the profits go to impoverished children in Madagascar, one of the world's poorest nations.
My visit to merci, one year after it opened in 2009, coincided with the very popular launch of a special range of Liberty print merchandise, a design collaboration between the London store and merci, which had droves of chic Parisians queuing (not their natural inclination) to purchase. That's a lot of mercis channelled to a very good cause.
As this seems to be all about children, why not check out children's store Bonton just down the road. It's a newly opened store and very much following the merci mode, with many levels piled high with adorable kids clothing, quirky toys, a photo booth and kiddie hair salon. Even if you have zero interest in kids, this is worth a look just for the retail concept and for great gifts at all prices.
While on the kiddie trail a friend, with toddler in tow, took me on down the boulevard towards Bastille, to a charming toy store Filament, which is full of knick-knacks that kids and kidults alike would adore too. Hard to pin down this quirky store, without a working website not even an address card, as the owner admitted with a sheepish shrug, Filament is one of those places you just have to hear about. A train chuffs around the cluttered window, through piles of toys and you'll see stacked up a wall their own line of super cute leather baby shoes. What could be smarter than baby's first shoes bought in Paris.
As you're in Marais and in walking distance, why walk to the Place des Vosges, the most beautiful historic square in Paris. Once upon at time, when my sister's children were little, she was castigated by the guardian for allowing her baby to put his little feet on the grass. Nowadays they have loosened up a little and in the summer allowed one grassy portion where you can actually sit on the grass and allow your children to run around. In winter, though this patch of grass is roped off with a sign, which always makes me smile, about the lawn being in 'repose'. At least in summer one can say merci for small mercies.
merci
111 boulevard Beaumarchais
75003 Paris
tel: +33 (0)1 42 77 00 33
www.merci-merci.com
Bonton
5 boulevard des Filles du Calvaire
75003 Paris
tel : +33(0)1 42 72 34 69
www.bonton.fr
Filament
10 rue de Lesdiguieres
75004
tel: +33 (0)1 42 09 81 83
http://www.flickr.com/photos/heyrocker/3748126806/ CC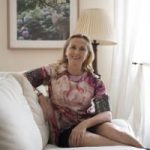 Jane de Teliga is a fashion writer and stylist, with a passion for travel. A contributor to the media in London and Sydney, she co-created personal styling service, styleoncall.co.uk
Read more on Destinations, Europe, France, Paris
Comments