Anyone can honeymoon at a 'luxe hotel, but how many couples can say they slept in Elvis's bedroom? Holiday Goddess Vicki Arkoff visits the private home where the King and Queen played house.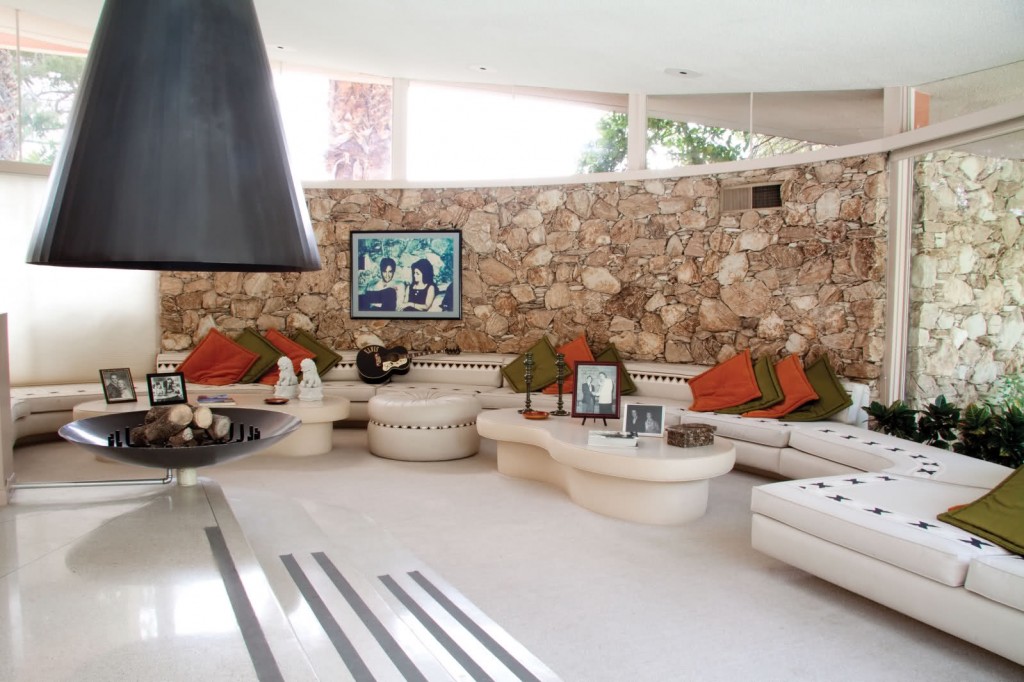 Palm Springs is filled with mid-century architecture, but when you arrive at 1350 Ladera Circle, it's clear that this house is an authentic time capsule. Sloping roofs with deep overhangs, huge expanses of glass, post-and-beam construction, open floor plan, rock walls – it's a classic from the vintage front walkway to the curvy custom 64-foot banquette sofa. And for the right price, the secluded landmark can be yours for a vacation rental, wedding location, hour tour, or overnight stay with some serious pop culture history.
The estate was built in the early 1960s by Robert and Helene Alexander, a stylish, wealthy couple who lived an exciting life of dinner parties, tennis and cocktails with friends like Frank and Barbara Sinatra. But as cool as they were – and their dream property still is – the real star here was the house's second resident. On September 16, 1966, Elvis Presley paid $21,000 to lease the house for a year. It was a perfect escape from Hollywood, a great place to bask in the sun, entertain friends, relax…and start a new life with Priscilla as man and wife.
Rock 'n' roll's King and Queen planned to have their wedding and reception around the pool of the estate until a nosey neighbor, gossip columnist Rona Barrett, spilled the beans when Elvis's entourage started to assemble and Priscilla Beaulieu arrived with her entire family. So the couple slipped out of the house, flew to Las Vegas in Frank Sinatra's Lear jet, and were instead wed at the Aladdin Hotel, before jetting back home for their Palm Springs honeymoon.
On May 1, 1967, Elvis carried Priscilla over the threshold singing "The Hawaiian Wedding Song." (When I toured the house — for US$25 — my guide enjoyed adding: "On February 1, 1968, exactly 9 months later, Lisa Marie was born.") The day after their honeymoon at home, Elvis went back to L.A. to finish filming "Clambake," then rushed back to Palm Springs that same evening.
In the 1990s the house was restored to its original design and was opened to the public for tours, filming (the James Caan film "Poodle Springs" shot here), private parties, weddings, and as an exclusive holiday rental. Any lover of pop history would trade their blue suede shoes to stay here. Its appeal as a rock 'n' roll treasure is obvious and Elvis' presence can be felt everywhere. I could practically see him swaggering through the entry gates and up the interior stairs, reading scripts by the diamond-shaped pool, making peanut-butter-and-banana sandwiches on the round kitchen island, and wrestling with bee-hived Priscilla underneath the pink sheets of his pink upholstered and pink canopied bed.
The same bed that's now available for new renters to make their own memories. Maybe even make their own Lisa Maries.
Rental inquiries: (760) 322-1192.
Tours by appointment only: (760) 322-1192.
To book online: http://www.elvishoneymoon.com.