Bestselling author and cult books and style blogger Maggie Alderson recommends you try the vanilla at Cadwalader's Ice Cream, North Wales. Or in winter, the hot chocolate and soup.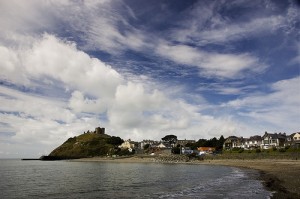 Most good ice cream in the UK is actually Italian (Morelli's Gelato, Broadstairs, Kent and also in Selfridges, London and Birmingham) or American (Häagen-Dazs, Leicester Square and all supermarkets), but the very best is actually Welsh.
Cadwalader's Ice Cream was launched upon the tongues of North Wales in 1927, at a small family grocery shop on a hill in the picturesque seaside town of Criccieth.
So delicious is the creamy vanilla, with a unique taste – probably the result of the 'secret ingredient' they tease customers about on an in-store notice – that they soon stopped selling everything except ice cream. Queues formed. A seaside holiday tradition was set for generations of children.
There are other branches now, several around Wales and one in England, but this is the original and the best, perfectly situated half way up the hill between two sandy beaches and right by the entrance to the thrilling ruined castle, with its spectacular views of Cardigan Bay and Snowdonia.
One thing: make sure you all have vanilla. There are other flavours now, but it would be sacrilege.
Cadwaladers, Castle Street, Criccieth, Gwynedd, North Wales, 01766 523665