Tamara Pitelen takes a tip from her ex and discovers beautiful Hay-on-Wye and its secondhand bookshops – and great British fudge shops.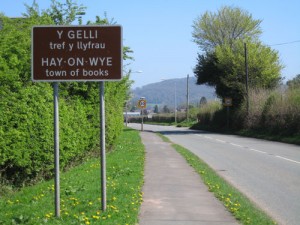 It was my ex-husband Ian who first told me about the Town of Books in Wales.
I was visiting him and his new wife Leslie at their home in Portishead, Bristol (yes, it was an amicable split and all parties are being very mature and 21st century about it).
"It's just winding streets full of second-hand bookshops in these fantastic Tudor buildings," he explained.
"Get away!" I said, "If such a Nirvana truly existed, I'd have heard of it before now. You are fibbing as usual. You haven't changed; you're still the last of the great, big fibbers!"
I can't imagine why we're divorced.
"No, it's true," said Leslie. "Come on Ian, let's take Tam there tomorrow, it's just across the border into Wales, about an hour and a half's drive from here."
And so it came to pass that the very next morning I was sat in the back of Ian and Leslie's car, in need of a special bib due to excessive excitement-induced salivation (that's 'dribbling' to you) as we drove through the lush and sunny – on that day – countryside of England and Wales on our way to the village of Hay-on-Wye, which is the real name for the nicknamed 'Town of Books'.
Why was I so excited? Because second-hand bookshops are among my favourite places in the known universe. Spending a few hours browsing shelves, letting the books take me where they may, never knowing what forgotten treasure might be uncovered on a high and dusty shelf, is a beautiful thing. Throw a coffee shop into the mix, a place in the store where you can take a pile of books and leaf through them over cappucino and cake and, I ask you, does it get any better?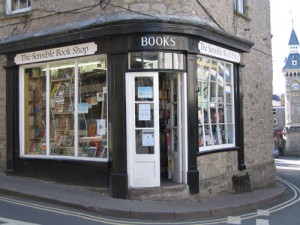 So, the notion of an entire town devoted to second-hand and antiquarian books. Literally millions of books on every subject imaginable. oh be still, my beating heart! And pass me another bib.
Anyway. Hay-on-Wye lies on the Welsh side of the Welsh/English Border in the County of Powys, Wales. It's nestled at the foothills of the Black Mountains on the banks of the River Wye. The town's first second-hand bookshop was opened by Richard Booth in 1961, an Oxford graduate whose family lived in the area. It was his dream to create the largest second-hand and antiquarian book-selling centre in the world and now, this little town's labyrinth of narrow and ancient streets is home to about 30 major bookshops, some specialising in a particular genre, others carrying anything and everything they can fit on their heaving shelves.
As far as specialist shops, there's the Murder and Mayhem shop which, as you might expect, only sells detective fiction, true crime and horror. There's also Mostly Maps, The Children's Bookshop and the Poetry Bookshop. In the general shops, such as Addyman Books and Richard Booth's Bookshop, the categories range from country life to erotica, the military and the occult. If it's rare, collectors or out-of-print you're after, drop Addyman's a line.
Ian, Leslie and I spent many hours roaming in and out of the bookshops that are virtually next door to each other until we had bagged enough book bargains to keep us in reading material for the next six months. Our browsing was of course interspersed with regular stops for ice-creams, fudge, and cups of of tea. As is only proper.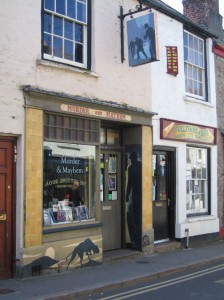 So sure, spa retreats in Thailand or detox holidays in Sri Lanka have their place but for turning over new leaves of the literary kind, brush up your Welshisms and head to Hay-on-Wye.
Tidy.
Further Information
For more information on the Town of Books, check out the website at www.hay-on-wye.co.uk and if you're in the neighbourhood around May, try and get to the annual Hay Festival for a cornucopia of dancing, books, food and music (www.hayfestival.com).