Tamara Pitelen finds crystal healing, chakra cleansing and more in a haunted, luxe, Lake District hotel.
Built in the 1800s, Holbeck Ghyll is a renovated hunting lodge in England's picturesque Lakes District. It's very posh. Think Downton Abbey. Before its current incarnation as a very upmarket hotel set high above Lake Windermere, Holbeck Ghyll was owned by the fifth Earl of Lonsdale who used it for taking guests hunting on his Westmoreland Estates.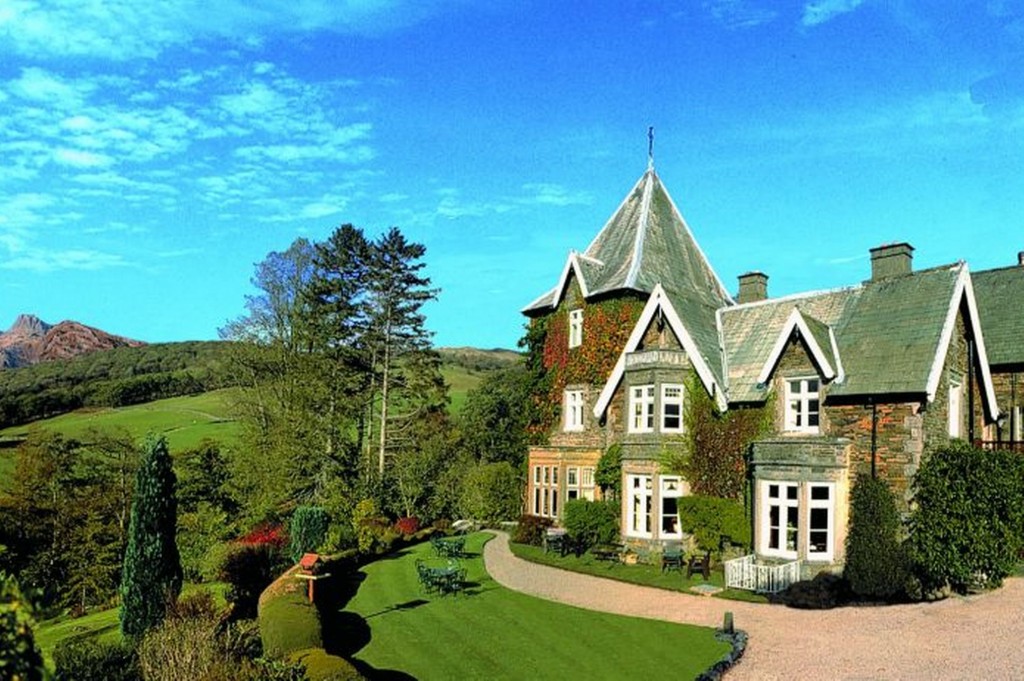 It has a 5-star Michelin restaurant and the waiters wear full suit and tie in the evenings and hunting jackets and riding breeches at breakfast. With accents and manners that would make Prince Charles look uncouth, they are impossibly polite and genteel, "Sir, would you care for an aperitif?"
There is a traditional English charm in everything from the shining brass fittings on the oak paneling to the leather armchairs in front of the crackling open fire where one can sit with a glass of brandy or wine after a long day's hunting.
Alcohol is a happy companion throughout your stay at Holbeck Ghyll, from the decanter of homemade damson gin that awaits in your room on arrival to the more surprising little jug of whisky that is offered at breakfast along with cream and brown sugar for your porridge. Yes, whisky for breakfast. The refined English gentry weren't afraid of a tipple.
Holbeck Ghyll is also no stranger to the rich and famous. In its heyday as a hunting lodge, both King George V and Kaiser Wilhelm stayed whilst out hunting with the Earl. More recently, Renee Zellwegger was holed up there for a few weeks while she filmed the movie Miss Potter. Zellwegger played the author Beatrix Potter who was inspired to write many of her timeless children's books in the area. Potter was also pivotal in having the area turned into a national heritage park.
Like any self-respecting historic English manor house, the old lodge even has its own ghost or two. The housekeeper told us she'd had a number of strange things happen and many guests have reported seeing an apparition – usually room 20 but there have also been strange goings on in rooms 21 and 4.
It was with great relief that my husband and I found ourselves shown to room 14. We had escaped to Holbeck Ghyll for a romantic getaway and indulgence – the last thing we wanted was to be woken up at 3am by a disgruntled ghoul. The plan was to be pampered in the spa followed by a Michelin star evening of world-class cuisine.
We'd chosen it for the reputation of its restaurant. Famed for its food, guests come from all over the world to sample the excellent cuisine. Coupled with one of the most extensive wine cellars in the region, Holbeck Ghyll is the ultimate gastro getaway.
But that's not all. Set high above Lake Windermere, Holbeck Ghyll may be a step back in time but this 19th Century genteel charm is combined with some surprising 21st Century specialities including a spa that offers crystal energy therapy.
That's how I ended up lying naked on a bed of volcanic stones covered in crystals while resident energy healer Jane MacPherson swung a pendulum over my different chakra points. Probably not the kind of thing the fifth Earl of Lonsdale got up to. But before the treatment started, I think I had an encounter with the ghost. Jane left me in the treatment room to get undressed and get beneath the towel on the massage table but as I turned away to put the robe on a chair, I heard a loud strange noise behind me, it was enough to make me scream and spin round, only to find that all the towels and blankets that had been on the massage table had been thrown to the floor. It was really bizarre. When I told Jane, she said, 'oh yes, odd things do happen here, I once saw a whole pile of papers suddenly fly across the room…'
Well, I certainly needed to relax after that so Jane got on with it. She was already prepared for me. Before I'd even arrived for the treatment, she had dowsed my treatment plan, by that I mean she used her pendulum to find out which crystals were needed for which part of my body and had checked that I had no allergies or other medical conditions that would affect the work.
As I lay on the smooth, volcanic basalt stones to keep me grounded, Jane worked through my chakras, cleansing and balancing and activating, guided by her pendulum. Her hands and arms making motions that she has no control over because her body, says Jane, is being used by ascended masters.
I'm not sure who they are but she assured me I didn't need to worry about leaving them a tip.
La Stone Crystal Energy treatment
1 hour and 20 minutes: £90
Email spa@holbeckghyll.com
Holbeck Ghyll Country House Hotel Ltd,
Holbeck Lane, 
Windermere,
Cumbria,
 LA23 1LU,
 England
Tel +44 (0)1539 432 375
Email stay@holbeckghyll.com