Louise Hawson finds detox hell – and heaven – at the award-winning Gwinganna Lifestyle Retreat in Queensland.  (Photographs: Louise Hawson).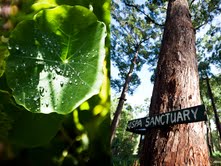 After a particularly gruelling year of work, I decided to drag my weary body off to a health retreat. I scoured the websites of the various places around Australia and finally settled on Gwinganna Lifestyle Retreat in Queensland. It had won awards. It looked beautiful. It was going to be great!
Not so. At least not to begin with. Within 48 hours of arriving I had developed the headache from hell and the worst case of lethargy I'd ever experienced. Who cared what amazing programs they were running or how unique their spa treatments were – I just wanted to curl up in a foetal position and sleep.
Lying there, staring at the inside of my throbbing eyelids, I realised that I really should have paid more attention to five little letters on the website – 'Detox'. I thought a detox week just meant less vino and more vegies. Silly me.
Detox means zero sugar and not a drop of alcohol or caffeine. It means no second piece of toast, small portions of protein and lots and lots of salad. For the first day that's totally fine, refreshing even. But around day two the deprivation starts to kick in and your body begins to crave. C-r-a-v-e. Hey, I wanted to scream over a lunch of yet more green things, I came here for a break not a boot camp. But even if I'd thought that might have led to chocolates on my pillow, my head hurt too much to even think about making a fuss.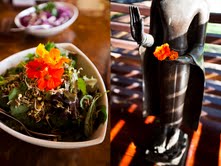 Then around day four the fog lifts, the headaches and lethargy disappear and I could finally enjoy the sublime afternoon pampering sessions and the incredible rainforest environment around me.
If only I'd had something more than a shot glass of spirulina to celebrate with.
Gwinganna offers packages from 2 day spa weekends to the full seven-day detox. www.gwinganna.com