Rachael Oakes-Ash finds the hottest (coldest, hottest) ski destinations in the world.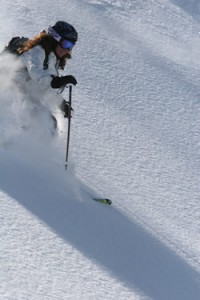 Snow sports have always been associated with the entitled. The British monarchy traverse the slopes of Switzerland annually, Michelin star restaurants dot the French ski villages of Courchevel and Megeve and Oprah and her pal Tom Cruise both own property in Colorado's Telluride ski resort.
Then snowboarding came into play, single handedly saving the snow sports industry by creating a whole generation of snow addicts who preferred their time on snow to be extreme. Suddenly it was cool for anyone to head to the snow, snowboard under arm, thumb out on the access road, pants hung low. You didn't need mega millions in your bank, most snowboarders survived on pocket money and sneaking into the lift queue when the staff weren't looking.
Now snowboarding is in the Winter Olympics and the ski industry has finally caught up with skiers taking to the terrain park and challenging the boarders on the jumps, half pipes and off piste terrain. Though ask a snowboarder and he'll tell you everything the skiers know now the snowboarders taught them.
Gone are the toothpick skis of last century with their rear entry boots replaced with fatter skis for off piste to create a powder platform, carving skis for on piste for more turning and all mountain skis to cater for all terrain.
Then there's the 'twin tip', a ski that has the same fat tips at the front as it does the back. Why? So skiers can ride 'switch', in layman's terms that's 'backwards'. With heathen top sheet graphics and names such as K2's "Seth Vicious" (named after extreme skier Seth Morrison and Sid Vicious) for the boys and "Miss Demeanour" for the girls, twin tips are the new black of the ski field.
Snowsports have always provided good boasting rights and with the advent of Japan, India, Russia and South America as ski destinations, there's more kudos in skiing further afield. Just take your camera so you can capture yourself on film, set it to some hard core music and email your mpeg to envious friends. There's no point in going if you can't talk it up.
Top Ten Boasting Rights
1. Craigieburn, Canterbury, New Zealand
www.craigieburn.co.nz
This private club field an hour and a half from Christchurch is definitely for the hard core. It's steep and deep with chutes, ridges and gullies and no grooming means a total back country experience. First you must conquer the 'nutcracker', a barbeque tool attached to the waist that flicks over a rope pulley powered by a tractor. Lodging is bunk style so bring your own linen and there's a chores board so everyone pitches. Run on a generator it's lights out at 9pm unless there's more than eight people in the bar then they'll stay on till you finish drinking, so bring friends and order up.
2. Highlands Bowl, Aspen
www.aspensnowmass.com
Trek the forty five minutes to over 3500 metres with skis strapped to your back and ski down this backcountry terrain. 'The Bowl' as locals call it is a patrolled off piste area for experts only on Highlands Mountain in Aspen. If you can make it up in one piece you're doing well, coming down is the easy part.
3. Gulmarg, India
Rebel patrolled Kashmir, India, is the hotspot for mad keen snow folk. Ungroomed powder accessed by a gondola, no crowds, inexpensive and remote. Take your avalanche beacon and a shovel and let folks know where you're going. Ski patrol here have been trained by our own Mt Hotham crew, so you'll be in good hands.
4. Heli Ski
http://www.canadianmountainholidays.com/heli-skiing.aspx
Act like James Bond and chopper in to the ski destination of your guide's choosing. One day doesn't cut it for boasting rights, book in for a five day or longer extravaganza with CMH Heli Ski in Canada. Five star gourmet cuisine in remote lodges by night, waist deep powder by day. You don't have to be an expert as they'll take you to level appropriate terrain.
5. Cat Skiing
www.powdermountaincatskiing.com
www.mtpotts.co.nz
Sometimes called the poor man's heli, Cat Skiing has it's major benefits. Unlike helicopters, these giant caterpillar automobiles can transport up to fourteen people to remote terrain regardless of weather. It's one payment up front so you get as many runs in a day as you want rather than pay per run. The best for tree skiing is found at Powder Mountain in British Columbia just outside of Whistler. The closest is Mt Potts in New Zealand's south island, stay at the lodge at the base, chopper up and let the cat take you up and down the private bowl all day.
6. Silverton, Colorado
www.silvertonmountain.com
This is skiing as it should be. Silverton Mountain is for expert skiers only so you won't be haunted by dangerous out of control beginners. Lift passes are limited so the mountain doesn't get overrun and the lift accesses some of North America's most exciting terrain, left natural as the ski gods intended.
7. Ski with a pro in Chile
www.skiportillo.com
Extreme freeskier, Chris Davenport is a two times world champion freeskier and holds a Ski with the Superstars week in Portillo, Chile annually. Turn some tricks with Davenport and his mates Chris Anthony who has featured in fifteen Warren Miller extreme ski films and three times world extreme ski champion Wendy Fisher. Add the swarthy ski resort of Portillo with it's infamous wine nights and you're in for some serious ski action on and off piste.
8. The Vallee Blanche, Chamonix France
www.chamonix.com
A lift accessible glacier run with risks. Ski too wide and find yourself free falling into a glacier crevasse. The run drops over 2.7 kilometres in vertical from top to bottom and is a whopping twenty two kilometres long. Those scared of heights will have to close their eyes during the cable car trip or just not look down. Prepare to cling to rope on a narrow ice step ridge with major drops on either side to get to the top of the descent. That's the hard part, the rest is easy by comparison. It's best to take a guide, avalanche beacons and a camera to capture spectacular ice and mountain views at almost 4000 metres altitude.
9. The Inferno Race, Murren, Switzerland
www.inferno-muerren.ch
The oldest ski race in the world, founded by Sir Arnold Lunn in 1928, the Inferno is an annual event attracting over two thousand skiers of all levels of fitness. Held in January it's traditionally a fifteen kilometer course of steep, narrow and uphill. The Inferno Race is an amateur race with major kudos which means it's open to everyone. If Sir Arnold's 90 year old son can complete the race then anyone who can handle a standard resort black run can complete it too. You may not win a medal but you'll get down alive.
10. Ski and surf in the one day
It can be done. Lebanon, Cyprus and Hawaii have accessible ski areas within driving distance of surfable ocean. But beware, Hawaii's (www.hawaiisnowskiclub.com) Mauna Kea (White Mountain) isn't an official area so there's no lifts, no snow reports, just one 4wd to the top to drop skiers off and the same 4wd at the base to pick them up again. Oh, and you'll be driving.
Lebanon (www.skileb.com) has over six lifted resorts with accommodation and integrated lift systems. Cyprus (www.skicyprus.com) on the other hand has one, Mt Olympus which sits just under two thousand metres with variable conditions.