Stay where the Beatles and the Rat Pack slept, or find a doorman dressed up as Sir Frances Drake. Sometimes, says Julie Moline, an historic hotel can be a holiday by itself.
Much as I love the Ws and Park Hyatts of the world, staying at a historic hotel is a refreshing change from the smug hipness of some boutique hotels and the polyester monotony of mid-range chains.  Another reason to patronize these grandes dames is to help support their preservation. There are practical reasons, too: Most are well located in their cities, right in the heart of downtown, near important attractions and public transportation. Here are a few favorites by city:
New York. Built in 1927 by William Randolph Hearst as an apartment building for his show-biz friends (including his mistress, Marion Davies) and then converted into a hotel, the Warwick got famous as a hotel in the early 1960s when it became the stomping grounds for the Rat Pack and the Beatles, who liked the residential feel, small lobby (which discouraged hangers on) and discreet service. Cary Grant's apartment has since been turned into a gorgeous suite with a wraparound terrace. The hotel's rooms, bathrooms and closets are huge, the prices surprisingly modest for such a prime midtown location, across the street from the Museum of Modern Art; don't miss the adjacent restaurant, Murals on 54, for the magnificent frescoes painted by illustrator Dean Cornwell. For information: www.warwickhotelny.com
Milwaukee. In the land of beer and bratwurst there is actually still opulence at one of the most magnificent historic hotels in America, The Pfister, which opened in 1983. President William Taft was staying at The Pfister on November 11, 1918 when armistice was declared; the streets were filled with rejoicers and the press stormed up to Taft's room to get the retired president's reaction. Taft said he slept through the entire event. Now that's good soundproofing. Also worth noting: the hotel's 80-piece art collection, mostly of Victoriana; Blu, a penthouse jazz club and lounge; and the frequent ghost sightings creepy enough to spook the professional baseball players who stay there regularly. For information: www.pfister-hotel.com.
Boston. If the Fairmont Copley Plaza seems familiar, it's either because you've been to the Plaza in New York (both hotels were designed by the same man, who used the same double "P" insignia for each) or you saw the 1993 Tom Cruise film "The Firm." Don't miss the Oval Room, whose magnificent sky and cloud ceiling mural inspired John Singer Sargent, who was commissioned to paint the murals at the adjacent Boston Public Library. (The Oval Room is so popular for weddings that more couples get married there than in Trinity Church next door.) In keeping with its historic status, the hotel offers several interesting packages that combine the guest room with tours, museum admission and, in some cases, related books.  There's also a very cool behind-the-scenes brewery tour of the Samuel Adams brewery, where you're treated to a private tasting followed by a three-course beer pairing dinner at the hotel. For information: www.fairmont.com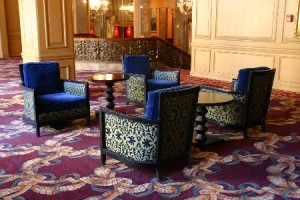 San Francisco. The doorman at The Sir Francis Drake is dressed in the crimson tunic of a Beefeater—a nod to the English explorer who arrived in the area in 1579. The 21-story hotel, built in 1928 on Union Square, features the Renaissance-style flourishes of Drake's time; the lobby murals depict his life story, and other touches, especially the vaulted gold-leaf bas relief ceilings, are spectacular. But it was the modern touches that wowed the crowd when the hotel opened in 1928: an indoor golf course, ice water on tap, and "Vitaglass" windows that, the hotel crowed, let guests get a tan without going outdoors.  And despite the 16th century vibe on the lobby level, the guest rooms feel very 2010, thanks to a recent refurbishment by hip, eco-friendly Kimpton Hotels, which now runs the place. www.sirfrancisdrake.com

Cincinnati. The Netherland Plaza may have opened during the Depression, but that didn't stop the architect from building what  local critics said "challenged the splendor of Solomon's Temple." The décor is French Art Deco, with lots of rosewood and Egyptian and floral motifs, and features the high technology of the time: indirect lighting, an internal broadcast system and high-speed elevators. A massive restoration in the early 1980s uncovered some gems, including the gold Palladian mirrors in the Hall of Mirrors, which had been inexplicably covered up during an earlier, brutal renovation. This hotel also supposedly has a ghost, the Lady in Green, who has been spotted roaming the hotel, apparently looking for her husband.  www.hilton.com
Denver. The Brown Palace Hotel is literally palatial, featuring the fussy French and Venetian Renaissance flourishes that were the height of fashion in 1892. Don't miss the traditional afternoon tea in the eight-story, stained-glass-atrium lobby; in the attempt to be authentic, the Devonshire cream is flown in from England, and house-made scones are served on specially commissioned Royal Doulton bone china. A  hotel historian leads tours (free for guests)  that can be shaped according to your interest—architecture, ghosts, romance, presidents.  Also worth noting is that Rocky Mountain spring water comes out of the taps, pumped from the hotel's original 720-ft. artesian well. www.brownpalace.com