The Neon Museum and Boneyard, Las Vegas, Nevada is Sin City's best new attraction – a real sign of the times: the salvaged remains of the lights that once lit the legendary Strip, broken glass and all. Article & photo slideshow by Holiday Goddess editor Vicki Arkoff.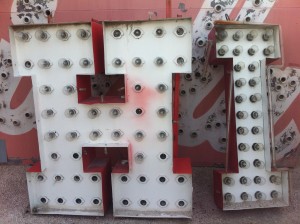 Las Vegas is constantly reinventing itself, but this time a group of preservationists have finally done it right by opening the new Neon Museum.  Decades in the making, it's a fascinating collection of the city's oldest relics: dismantled and discarded signs from mid-century Las Vegas landmarks that were destroyed and replaced with billion-dollar megalith resorts and casinos. Gone but (mostly) not forgotten, what remains of their signage has been salvaged and restored, and, after languishing  in the Nevada desert in rusty piles, are now refurbished and displayed for public viewing 24-hours a day, seven days a week.
Most of The Neon Museum's signs are exhibited in "The Boneyard" where they serve as inspiration to fascinated artists, students, historians and designers.  It's home to some of the most treasured and world-famous signs of Sin City: Caesars Palace, Binion's Horseshoe, the Golden Nugget, and the Stardust.  The 1950's revolving tam from the not-so-ritzy Tam O'Shanter Motel?  It's here too, among other signs from lesser-knowns such as the Lucky Cuss Motel, the Bow & Arrow Motel, The Silver Slipper (including the blinking sign that drove Howard Hughes so crazy that he bought the building just to tear it down), the Normandie Motel, Dot's Flowers, the Landmark and 5th Street liquors.  They just don't  make 'em like these anymore, folks, so it's a fairly mind-blowing collection of vintage street art, kitsch, and the seedier side of American history.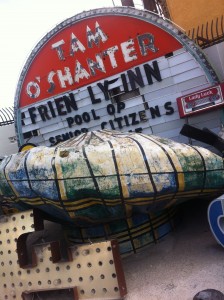 The two-acre Museum campus includes the adjacent Neon Boneyard Park as well as the "The Boneyard" which houses more than 150 historic signs. Each sign in the collection has a unique story about who created it, what inspired it, where and when it was made, and how it fits into the development of Las Vegas and the city's rich history – so do yourself a favor and take a guided tour rather than just a causal walk-through.  Changes and trends in design and technology are also illustrated in the pieces that range from the 1930s to the present.
The Neon Museum visitors' center is located inside the historic La Concha Motel lobby, a distinctive shell-shaped building designed by acclaimed architect Paul Revere Williams. The curvilinear La Concha Motel lobby is a striking example of Mid-Century modern design characterized by Atomic and Space Age shapes and motifs – it's as Googie as it gets. Originally constructed in 1961 on Las Vegas Boulevard South (next to the Riviera Hotel), the La Concha lobby was saved from demolition in 2005 and moved in 2006 to its current location for its second career as the museum's Visitors' Center.
The Neon Museum deserves to be on every Vegas visitor's sightseeing list, but thankfully it's still a best-kept secret, not yet overrun with tour busses and crowds.  It is simply the best new addition to Las Vegas, which is really saying something for a town always competing with itself to become bigger, better, and flashier. A leisurely guided tour here is an especially pleasant and memorable way to escape the exhausting Strip hustle and bustle, and is increasingly being named a Top Ten attraction for Vegas visitors with no shortage of sights to see.  So before the one-armed bandits pick your pockets in the casinos, make sure to save enough for admission here. There's a rare feel-good effect from spending $18 for a tour: every penny supports the Neon Museum non-profit mission, and every minute you spend here will be a minute less losing your shirt at the slots.  Pay a visit and pay your respects at The Boneyard.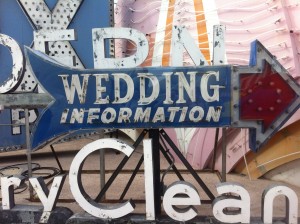 The Neon Museum and Boneyard: 770 Las Vegas Boulevard North, Las Vegas, NV 89101. www.neonmuseum.org