By Sue Ostler
Categories Asia, Destinations, Halong Bay, Hanoi, Vietnam
Prepare for a cultural OMG moment if it's your first time in Vietnam. Sue Ostler is hypnotised, despite the rain.
Hanoi plays tricks with your mind, at once beautiful and vibrant with its architecture and history – and completely mental. A swarm of motorcycles buzz through the narrow tangled web of streets and alleyways that prop up a maze of markets, stalls, hawkers and make up the Old Quarter – the madly pulsating heartbeat of Hanoi.
The New Quarter offers a pedestrian shopping experience, bars, clubs and restaurants and Hanoi's commercial institutions – all the necessities but it with none of the buzz that makes the Old Quarter so hypnotic – and untamed. Prepare for a cultural OMG! if you're a first time visitor to Vietnam, as was this Holiday Goddess. The fact that the city was almost submerged under water with the worst floods ever known to Hanoi at the time of my visit, didn't help, keep this in mind if you plan to go during the monsoon season.
Wandering around the Old Quarter, trying to be cool about narrowly dodging speedy motorbikes, mangy looking dogs and families who had set up camp on the side of the street, was tricky with a capital T. It wasn't made any easier by the Child Mafia – those kids who chase you relentlessly, their tiny hands outstretched and big brown eyes pleading, 'Please pretty lady!' followed by theatrical outrage if they don't get what they want. "Oh my GOD!" sighed one sassy 9-year old as she stormed off in a huff.
It was time to get the hell out of Hanoi, so chancing the weather, and our lives, on a hair-raising four hour coach ride through wet and flooded conditions, we set off to Halong City to board the floating junk that would take us around the infamous Halong Bay – Vietnam's most beyootiful natural wonder visited by zillions each year. Geographically it's a proper jigsaw puzzle of over a thousand islands and inlets hidden within majestic caves of every shape and size with grottos dripping stalactites and stalagmites. It sounded good on paper, but in real life, there's only one word for it – Spectacular.
And to think I nearly didn't go. Thoughts of tinny little boats being lost in the wild and turbulent South China seas were slightly off-putting – but if you could have seen what Hanoi looked like in its flooded state – well let's just say, you would have left too!
We boarded our junk – small, functional and pristine. Almost as soon as we set sail the storm clouds blew over, the sun came out and the sea shimmered. If this was our welcome to Halong Bay, well thankyou very much; it could not have been further away from the grim, soaked city that we'd left only hours before.
Gin &Tonic o'clock was slap bang at sunset, served out in the open up on the Captains' Deck followed by a three-course seafood dinner and fresh fruit platters. Chilled white wine worked as gentle encouragement to ensure that our group of six, hung onto every last word of the mythical tales about the caves, as told by our English speaking guide Nam. So far, so fabulous!
Waking up to the bright sunlight and the gentle lull of the ocean felt pretty nice, as did downing a quick, hot breakfast before we leapt into rubber dinghies and rowed out to the caves. There was plenty of time to get in nice and close to drift about the grottos and explore – what an amazing experience. Unlike going back to Hanoi however, which was not.
The rain hadn't ceased the whole time we were away, forcing us to get on a coach immediately and abandon the city. Next time I visit Hanoi, it won't be during the wet season. Thanks to Halong Bay for saving the day. The overnight Junket Tour is up there with the world's greatest experiences – and certainly comparable with my personal favourite – the Great Barrier Reef.
Photo: Flickr CC: yarra64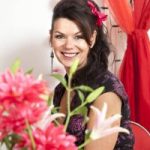 Sue Ostler is the associate publisher of "Rolling Stone" in Australia. She speaks on sex and relationships and hosts "Life in the Singles Lane" and "Vodka & Chocolate Therapy" singles seminars. She is the author of "Get Over It! "
Read more on Asia, Destinations, Halong Bay, Hanoi, Vietnam
Comments