By Jane de Teliga
Categories Bilbao, Destinations, Europe, Spain
Jane de Teliga finds Jeff Koons among the artists at an unusual Spanish museum made of titanium…
Once upon a time Bilbao was just an obscure industrial town on the coast of Northern Spain. In fact, it was a bit hazy where exactly it was –Spain? Portugal?
Now it is a destination, which every art and architecture aficionado wants to visit. Why? Because it has an extraordinary building, which houses a fabulous contemporary art museum. Designed by American architect Frank Gehry, the amazing titanium structure is the reason to visit Bilbao. So recently, I had a chance to go there on a dazzling spring day and under the bright blue sky the titanium structure gleamed and shone and the collections and exhibitions dazzled.
This was no obligatory nod to culture as a by-product of travel but an art experience to delight and inform. It is a visceral experience of contemporary art with the huge spider by Louise Bourgeois outside on the banks of the river and the crazy and colourful Jeff Koons 'Puppy' at the entrance.
'Puppy' is a giant kitschy outline of a West Highland terrier, covered in brightly coloured pansies, that greets you as you enter the building. It makes you smile, not something you can say for most contemporary art. Inside Richard Serra's huge sculptural installation of monumental forms in steel, that you inhabit by weaving in and out of their maze like shapes is a more sombre but powerful experience. With a good café and a great bookshop, the Guggenheim Bilbao is really worth a trip.
As to where to stay I can't tell you, because I stayed in the picturesque resort town of San Sebastian, further up the coast. Both towns are part of the Basque country and you'll see signage in both Basque and Spanish. In San Sebastian, my stay was in an inexpensive little hotel Pension La Perla. Great value and situated right in the charming pedestrian precinct, a hop skip and a jump away from Zara, Spain's hugely successful high street chain. Just an hour or so in one direction south to Bilbao and in the north, the resort town of Biarritz in France, San Sebastian with its a charming maze of old streets and tapas bars is great place to base yourself. Just hire a car, drive through the green mountains and valleys, and experience both Spain and France in just a few hours either way.
Useful Websites:
Museo Guggenheim Bilbao
www.guggenheim-bilbao.es
Pension La Perla
San Sebastian
www.pensionlaperla.com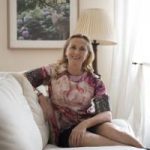 Jane de Teliga is a fashion writer and stylist, with a passion for travel. A contributor to the media in London and Sydney, she co-created personal styling service, styleoncall.co.uk
Read more on Bilbao, Destinations, Europe, Spain
Comments