By Vicki Arkoff
Categories Arizona, Destinations, Goddess Gold, North America, Scottsdale, USA
The legendary Arizona Biltmore is taking an overdue bow as a premiere property among Scottsdale's great desert resorts.
Who doesn't love a glamorous comeback? The luxurious Arizona Biltmore has finished a multi-million-dollar renovation that has put the glow back into the iconic Waldorf Astoria property's luxe accommodations while preserving the historic architecture and design that distinguished it as lovely "the grand dame" of the greater Phoenix area.
Décor, technology, services, and amenities have all received updated makeovers. Guest rooms and suites, the spa and salon, and meeting spaces have been re-designed with a sophisticated new look, while the ballrooms and the Mystery Room — the Prohibition-era "speakeasy" used for themed events — recall the seductive style of the resort's early years. The redesign is chic and contemporary, while honoring the property's treasured Frank Lloyd Wright style of organically incorporating the natural environment.
The revamp also included the rebuilding and redesigning the 15 cabanas at the Paradise Pool, which now feature enriched interior décor and new amenities, from flat-screen HDTVs to full baths. Refinements were also made to the service culture and communications tools were re-imagined, including instituting True Waldorf Service, new uniforms for the front-of-the-house team, and a comprehensive book that recounts the architectural and social history of the landmark property.
In the guest rooms, a soft color palette of mist, linen and latte created a light and cheerful ambiance, juxtaposed with contrasting warm wood colors that mirror the natural tones of the Arizona desert. Bronze and gold metal accents in the guest rooms echo the use of metals in the original hotel design, as do the mist-colored wall coverings embossed with a metallic Frank Lloyd Wright design, echoing the historic pattern on the Biltmore Blocks used to construct the entire resort.
Frank Lloyd Wright drawings of the hotel gardens inspired elements like the new carpets and geometric patterns in the Frank Lloyd Wright and McArthur ballrooms. It's a fitting touch for the 39-acre Arizona Biltmore which opened at the foot of the Phoenix Mountain Preserve in 1929 and was soon crowned the "Jewel of the Desert." It's one of the most recognized resorts in the world for its distinctive Frank Lloyd Wright architectural style and fabled history as a playground of the rich and famous. The 22,000-square-foot spa certainly helps, as do the two golf courses, six restaurants, and eight swimming pools including the spectacular Paradise Pool with a 92-foot-long water slide.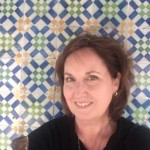 Vicki Arkoff's magazine work includes MAD, Daily Variety and Entertainment Weekly. She is the author of authorised biographies on Paul McCartney and Frank Sinatra.
Read more on Arizona, Destinations, Goddess Gold, North America, Scottsdale, USA
Comments