By Vicki Arkoff
Categories Cultural, Destinations, Food and drink, Las Vegas, Nevada, North America, Type of Travel, USA
There are bigger, splashier & sexier hotels on the on the Strip, but venerable Caesars Palace reigns once again.
Land barons will tell you it's "location, location, location" that matters, which is partially true in the case of 50-year-old Caesars Palace Las Vegas Resort and Casino: it's hard to beat center strip. But there's a growing list of even better reasons that Vegas' most iconic casino resort is back on top of the heap in Sin City's very crowded gambling resort market.
The New Julius Tower
Caesars continues to reinvent itself with a $75 million renovation of its original Roman Tower, now redubbed The Julius Tower. The high-rise wing is the latest piece of a $1 billion investment, cementing Caesars Palace as the premier center-Strip resort. The new 587-room Julius Tower features refreshed design-savvy, modern rooms and suites, 55" TVs with the SONIFI system, Beauty Rest Bouvet Island Mattresses, a specially-curated mini bar, and Gilchrist & Soames in-room amenities. It welcomed its first guests this month on New Year's Day so – unlike too-many Vegas hotels – it still has that wonderful new room smell.
Superstar Suites
Caesars' Anthology Las Vegas Suites & Villas has an exclusive collection of Las Vegas luxury suites and villas across its portfolio of properties including Bally's Las Vegas, Paris Las Vegas, The Flamingo, Planet Hollywood, Rio, The Cromwell, The Nobu Hotel, and Caesars Palace itself. High-rolling guests can now have access to a vast array of opulent options and amenities at 10 properties previously available only to the likes of Celine, J-Lo, Elton John, corporate CEOs, and billionaire "whales." Suites and villas start at a modest $300 per night, and range from a 700-square-foot love pad to a massive 11,000-square-foot mansion in the sky so large that you could misplace a Lear jet.
The Rain Man Suite
If you prefer old-school Caesars you're in luck, because the suite made famous by Tom Cruise and Dustin Hoffman in "Rain Man" really exists. It's officially called the Forum Classic Emperor Suite and is located on the 69th floor on top of the Forum Tower. It has two bedrooms, two and one-half baths, three lounging areas, a wet bar, an eight-seat high top table, mood lighting, beaded chandeliers, and (famously) a circular booth along a curved, floor-to-ceiling window for a sprawling view of the Strip.
Traveling with an entourage? You can book connecting rooms for up to two extra bedrooms. After all, the Emperor Suite also inspired the bachelor party set for "The Hangover." Unlike the one-story villa in the movie, the real deal is two-stories covered in marble and filled with flat screen TVs including a 52" monster that revolves 360 degrees. The nightly cost ranges from $2,120 to $4,200 and does not – I repeat, does NOT – include a piano, a live tiger, or Michael Tyson, but is absolutely perfect for Instagramming bachelor and bachelorette parties.
The Colosseum at Caesars & Absinthe
Everyone from Frank Sinatra to Diana Ross has headlined at Caesars, but in 2003 the resort upped the ante by spending $95 million to build the best venue in town for elaborate music concerts and original productions. It was a smart investment, having grossed $500 million in four years on Celine Dion's first Las Vegas run. The venue has since hosted exclusive productions starring Elton John, Rod Stewart, Bette Midler, Gloria Estefan, Mariah Carey, Janet Jackson, Cher, and others.
Once upon a time, big names were Vegas' biggest entertainment draw, but no more. Most showrooms have been taken over by a flock of Cirque de Soleil shows: Beatles LOVE at The Mirage, Michael Jackson ONE at Mandalay Bay, O! at The Bellagio, KA at MGM Grand, and more, including Zarkana, replacing the gone-but-not-forgotten Viva ELVIS at Aria Resort. Rather than produce yet another Cirque spin-off, Caesars created the tantalizing Absinthe, a sexy variety show that cheekily marries surreal and potty-mouthed burlesque with Cirque du Soleil-style acrobatics.
Mr Chow Las Vegas
Caesar's newest theatrical experience is grandiose, exclusive, and delicious. Legendary restaurateur Michael Chow has just opened his eighth Mr Chow restaurant – his first in Vegas — and it's a five-star showstopper. Not to be confused with Ken "Mr. Chow" Jeong's Caesar's Palace party scene from "Hangover 3," this elegant and scandal-free (so far, at least) Mr Chow is an upscale celebrity magnet with major wow factor. The casino-level entry beckons guests with its glowing champagne lounge where a champagne trolley serves premium sips including Dom Perignon, Ruinart, and Krug Grande Cuvee. Just past the lounge's red Jeff Koons "Balloon Venus" sculpture, however, are private elevators lifting guests up to the 1,600-square-foot restaurant.
Upstairs, diners enter a second lounge featuring Clive Barker artwork and a wine room visible through a glass wall. The round, white dining room features round tables, a circle of banquettes, a dark wooden bar, an enormous floral arrangement, and dramatic French doors opening to a terrace overlooking Caesars Palace's Garden of the Gods Pool Oasis. It's a big place. Mr. Chow has 250-seats in the main room, bar, three private dining rooms, and four terraces. All eyes are drawn to Mr Chow's focal point: a kinetic, 3,800-pound "Moon" sculpture that hangs from a 60-foot dome, and repeatedly gives a four-minute performance.
The dining room staff puts on six food "shows": a second champagne trolley tour, the decanting of the wine, the Sole filleting, Beijing Duck carved at tableside, the noodle show, and a custom Christofle dessert trolley. With all the sights and sounds, it'd be easy to overlook the food itself if it wasn't so good. The menu features elevated versions of traditional Beijing dishes including Mr Chow classics from the past 48 years including Chow's green prawns, once immortalized in a Keith Haring painting.
Mr. Chow's gourmet Chinese menu and chic atmosphere is a sophisticated addition to Caesar Palace's impressive celebrity chef restaurants, namely Brian Mararkey's Searsucker, Nobu Matsuhisa's Nobu, Bobby Flay's Mesa Grill, the Gordon Ramsay Pub & Grill, and the eponymous French gem by Michelin-starred chef Guy Savoy.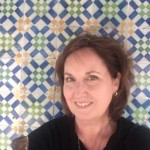 Vicki Arkoff's magazine work includes MAD, Daily Variety and Entertainment Weekly. She is the author of authorised biographies on Paul McCartney and Frank Sinatra.
Read more on Cultural, Destinations, Food and drink, Las Vegas, Nevada, North America, Type of Travel, USA
Comments