By Jane de Teliga
Categories Europe, London
Jane de Teliga ducks away from the London high street to discover still-swinging London.
The fascinating maze of streets in Soho are among my favourite London haunts. If you're visiting London and want to escape the Oxford street high-street hell, just a quick walk and you'll be in the heart of Soho. Just off Regent Street at Great Marlborough street is the wonderful Liberty, the jewel-like department store, with a wonderfully edited fashion selection for men and women.
Pop out the back door and you're in Carnaby Street, with a cute network of little streets running off it, full of boutiques, cafes and pubs that have some of the vibe of this swinging '60s mecca. Shop along Foubert's Place for All Saints or have a mani pedi at The Cowshed. Go to Kingly Court, for Vintage Store, Marshmallow Mountain, or if you're a yoga fan, climb to the top for a session at Triyoga, one of London's best, with mats provided.
Walk up Broadwick Street and turn into Lexington Street for fresh modern vegetarian at Mrs Marengos. For good English food, go to the charmingly shabby Andrew Edmonds. Continue on to Berwick Street market, and step over the cabbage leaves, to Flat White, a mecca for Australians and New Zealanders who are fanatical about their coffee.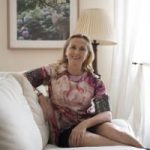 Jane de Teliga is a fashion writer and stylist, with a passion for travel. A contributor to the media in London and Sydney, she co-created personal styling service, styleoncall.co.uk
Comments