Where is the clean air shopping, dining and bar-hopping in Launceston, Tasmania? Holiday Goddess has been asked to join an exciting new Canadian venture to answer just that kind of question.
The Raven Clean Air Map of the world was first created in Toronto, Ontario.
It's a map of indoor places with good quality ventilation to help prevent the spread of Covid.
From Canada to Britain
You can find them @theRavenApp and join weekly YouTube updates with founder, Dr. Kashif Pirzada. They welcome you as a venue reviewer.
The Canadian approach? Just log into the Raven app, use a CO2 monitor and report safer/cleaner air readings in spaces you go to. So what are you waiting for?
You can also catch up with Clean Air Where UK who are listing places with 'fabulous huge windows' at @cleanairwhereuk
Outdoor Restaurants and Bars in Launceston
Launceston, Tasmania, Australia has some great places to eat, drink and shop with a big open door policy (even in winter) or better still, warm heaters and sturdy undercover roofing or umbrellas.
While we were waiting for our CO2 meters to arrive, we just looked for outdoor venues with the right approach to winter – or shops with a big, welcoming open door policy.
The Maple Café
This is a little out of the centre of town in East Launceston but a good place to have breakfast or lunch outside. There is a children's menu and excellent vegan and vegetarian options.
The Maple Big Breakfast will set you up for the day with eggs, bacon, spinach, chipolatas, mushrooms, tomato, hash brown and sourdough. The doors are wide open, the staff are extremely helpful, the hand gel is near the register and it all happens in the fresh Tasmanian air.
There are mobile heaters, plenty of spread-out tables and you can find them open from Monday to Sunday, 8.00am to 2.00pm. The Maple Café is inside a courtyard of boutiques at Shop 6, 17-19 Abbott Street, East Launceston.
Shop 6/17-19 Abbott St, East
Book on 03 6334 7666.
The Metz
Winner of the 2021 Travellers' Choice award in its category, The Metz is right in town and offers lunch, dinner and a vegan menu.
It is also savvy enough to offer footpath dining, even in winter, with big umbrellas and overhead heating. All the tables are well-spaced, and The Metz is so Covid-conscious it even has a whole section of the website devoted to their efforts to keep their bistro safer.
Find them at 119 St. John Street, just up from St. John, your other al fresco option for safe, relaxed dining and drinking, even in cold weather.
Book on 03 6331 7277.
St John
This is the best way to enjoy a good craft beer or glass of Tasmanian wine in town. Undercover, with powerful overhead outdoor heaters – and a QR code fixed to the table so you can point your phone and order.
You can buy a bottle to take home – they line the shelves inside. The home-made pork crackling has a cult following.
133 St John Street, Launceston
Open 7 days, 12 noon until late
Lunch and dinner
Book on 03 6333 0340
The Levee Food Co
The Levee Food Co is a short walk from the centre of Launceston, with views of the local marina, helpful and friendly staff, outdoor heaters and big umbrellas – with plenty of tables.
There are plenty of places to dine and drink at Seaport but The Levee Food Co has thoughtfully made it easy to sit outside. Bring your coat, just in case, but enjoy the clean air and the yachts nearby.
Coffee and tea is available from 10.30am and there is a good lunch and dinner menu, local oysters and a Tasmanian Wine list. The pizzas are excellent, as is the home-made lemon tart for afternoon tea.
27 Seaport Boulevard, Launceston
Book 03 6334 7011
Relaxed, Safer Shopping in Launceston
Relaxed shopping, dining or drinking is in the open air, undercover with heaters – or just with big, open doors. All year round.
Launceston, Tasmania is ahead, here with some fantastic spaces which let the air in, or encourage you to enjoy the fresh air all around.
The Junk St. Store
The Junk St Store at 15 Herbert St, Invermay, Launceston is good for 1950s-1970s collectors.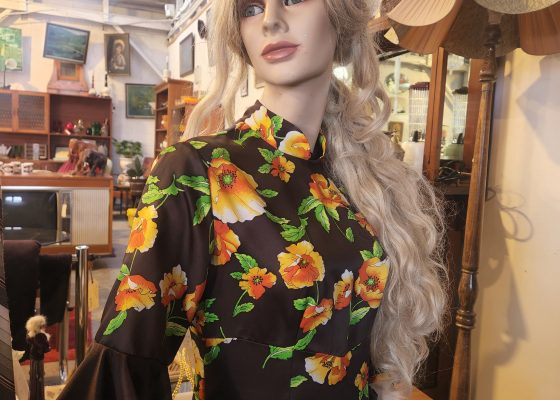 The modern vintage range inside this huge shop, with the big front doors open all year round –  includes picnic hampers and thermos flasks and some excellent retro frocks.
Prices are $50 and under in many cases, so this is a easy, breezy way to shop for secondhand collectables.
Junk St opens from 10am to 5pm, seven days a week. It's also a short walk in the same suburb to Owl Antiques and Collectables.
www.ebay.com.au/str/junkststore
Owl Antiques and Collectables
The doors are wide open but the temperature inside is just right for this terrific shop. We found Pringle knitwear and a Cath Kidston bag for a fraction of the original price. There are stacks of old vinyl; quirky ceramics; Australiana tea-towels; old American comics and some collectable Enid Blyton hardbacks in their original covers.
antiques.hey-australia.com/04578866/Owl_Antiques_&_Collectibles
Stockton and Co
Speaking to The Examiner in Launceston about local shopping habits earlier this year, Stockton and Co's Alice Bradbury figure the pandemic may have changed her booming business.
Dr. Who scarves knitted from recycled wool in Tasmania are just part of the fun at this wonderful shop opposite St. John bar and restaurant and The Metz (above) in the centre of town.
Stockton and Co is big on sustainable shopping. Reclaimed timber chopping boards and Tasmanian made heat packs made from recycled Waverley woollen mill fabric are hard to resist.
There are birthday cards, bars of soap, travel incense and candles from Esteban in Paris and cult Japanese socks from Nishiguchi Kutsushita.
launcestoncentralcity.com.au/place/stockton-and-co
124 St John Street, Launceston
If you need to ring ahead, the phone number for Stockton and Co is 03 6364 3848.