Why are all the straw-woven chairs outside Paris cafes turned outwards, like theatre seats? Because the street is like a theatre, and every day is a fashion blogger's fantasy – no internet required. Your first day in Paris is the perfect time to see the show, which usually makes Jean-Paul Gaultier look tame. Better still, you'll be in the front row, if you bag a table.
Berets, Dior, Chanel and Paris
Berets are timeless and flattering, can be knitted at home using a trusty Vogue pattern – or picked up secondhand on eBay from the house of Chanel or Dior.
It wasn't until 1835 that the beret got its name. It was worn by peasants, particularly those in the Basque region of Southern France. During the war, the Maquis (the French Resistance) wore black berets.
Twiggy has always loved this definitive French hat. "I've always thought the beret is the epitome of chic. It's a timeless classic and never goes out of fashion. I've been wearing a beret for as long as I can remember and will continue to do so," she told The Wall Street Journal.
The beret rose again in the 1960s during French 'New Wave' cinema, worn by Brigitte Bardot and even Picasso.
In Arthur Penn's Bonnie and Clyde (1967), Faye Dunaway's checked suits and loose knits were worn with her signature beret, worn with attitude. Marlene Dietrich wore a beret with power suits and gloves, Lauren Bacall with Old Hollywood waves and a houndstooth blazer.
The Best Berets in the World
Artisanal manufacturer Maison Laulhere has been producing berets since the 1840s in the French Pyrenees. They are generally thought to be the best in the world.
Berets have been worn by John Lennon, David Bowie, John Lydon and Captain Sensible. The raspberry beret was immortalised by Prince.
Chanel sent white berets down the catwalk in the 2018-2019 Impression of the Cruise collection.
Knitting Your Beret
Knitting your beret for next Autumn or Winter is a useful challenge if you want a Bohemian look. This Vogue knitting pattern suits most face shapes.
Buying Vintage Chanel and Dior Berets
Try eBay for Chanel, here
Dior berets are also on eBay at around the same price point, from around US$500 beyond US$1000 here.

How To Wear a Beret
You can draw inspiration from Rihanna and wear a beret sideways, with a veil as a twist. Or, copy Ines de la Fressange, who told The Guardian that her French classics were a navy sweater, jeans (which she dry-cleans) and ballet shoes. Just add a beret and voila.
Kate Moss
Kate Moss has worn her beret pushed back on her head with an upper arm bangle and flowing hair. Photographed by Mario Testino for VOGUE, she also teamed her Hermes beret with a Breton top, vintage Dior white trousers, a Gaultier leather belt and a glamorous polka-dot scarf. Just add red lipstick.
The Beret and Red Lipstick
What is it about a beret and red lipstick? Perhaps it is the drama of the look. Depending on your face shape, you pull the beret down to eyebrow level, or push it far back on your head, but scarlet lips and defined eyes will create a strong statement.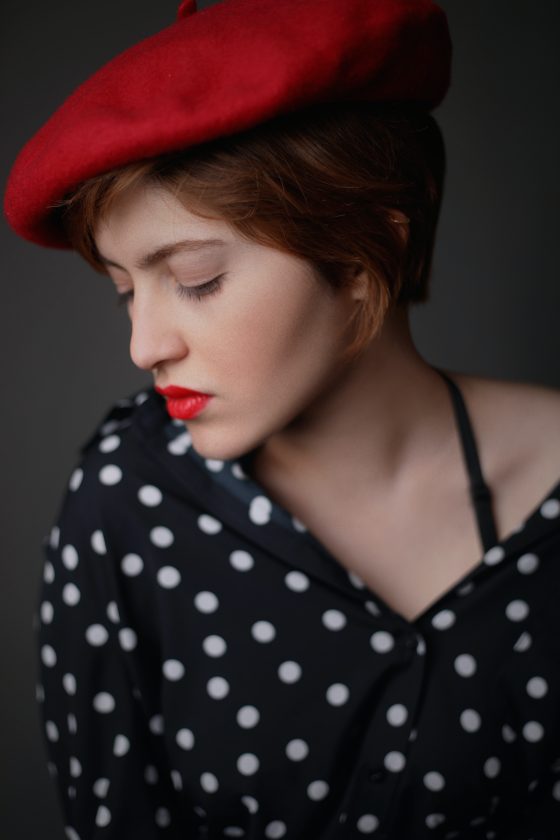 Beret Brooches
Enamelled brooches, badges or safety pins (punk) can transform a beret and draw attention to your eyes. In the Seventies, green eyeshadow, a green beret and green and yellow butterfly brooch was not considered over the top.
The Twitter account @70s_fashion is a good source for inspiring vintage looks.
The Beret and the Trenchcoat
Two classics in one look can be 'spun' with a plunging neckline, showing plenty of cleavage and a colour clash. Add a tied bow yellow belt to a beige trench, and add one of Prince's favourite raspberry berets. This model on the cover of ModCloth carries it off beautifully.
Colour Splash Berets
Again, this is very French and was really popular in the Seventies. Go for a purple or orange beret and add a colour splash/clash with tights or shoes.
Spring or Summer Berets
There is no rule that says a beret must only be produced when the weather is cold. In Spring and Summer, if your beret is light wool, you can team it with dungarees, a skimpy top and a tan. It's all in the attitude.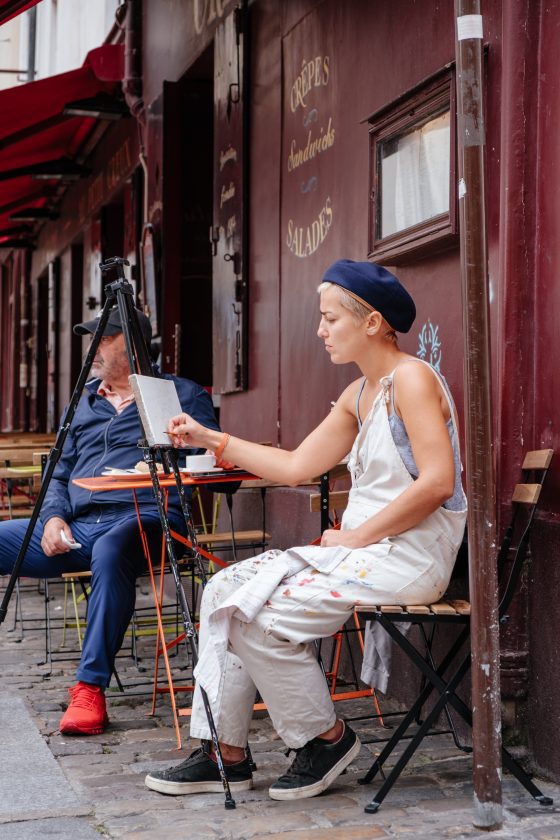 For more on Paris style, pick up The Holiday Goddess Handbag Guide to Paris from Apple Books.