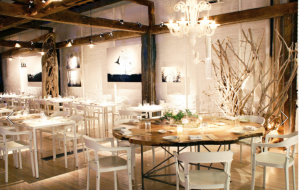 Food-lovers are spoilt for choice in a city like New York. And if you're vegetarian, vegan or just health-conscious there are plenty of dining options available where skipping on the meat and potatoes doesn't mean skipping on style. Kris McIntyre searched out the best upmarket vegetarian offerings the city has to offer.
Pure Food and Wine (54 Irving Place; Tel: 212-477-1010) 
When Pure Food and Wine opened in 2004 it was the first time 'haute cuisine' and vegetarian' were talked about in the same sentence in New York. This award-winning up-market raw food restaurant boasts a creative, seasonal vegetarian restaurant with a great wine list and sake cocktails. The candlelit setting is warm, intimate and romantic. In the warmer months, the best seats in the house are in the back garden. For a cheap and cheerful option, Pure Food and Wine's sister café, One Lucky Duck Juice & Takeaway, is just around the corner in the Chelsea Market.
Dirt Candy (430 E 9th St; Tel: 212-228-7732)
Before opening Dirt Candy, Chef Amanda Cohen worked in the kitchens of most of New York's best vegetarian restaurants. Now she owns one of the most-awarded vegetarian restaurants in the City and one of the only Michelin-recommended vegetarian restaurants in the USA. With unusual dishes like Jalapeno Hush Puppies served with maple butter on the bill, Dirt Candy dishes up vegetarian and vegan dishes with a hearty dose of creative flair.
ABC Kitchen (35 E 18th St; Tel: 212-475-5829)
Although this gorgeous restaurant is not solely vegetarian, it's focus on sustainably grown farm-to-table fare makes it one of the most celebrated environmentally-conscious restaurants in New York City. Michelin star Chef Jean-Georges Vongerichten's award-winning cuisine is matched by a beautiful white-on-white setting featuring ABC Home wares and design. With plenty of vegetarian options to choose from, the menu's testimony to the slow flow movement features organic produce from regionally farmers and fair trade cooperatives and
Candle 79 (154 E 79th St; Tel: 212-537-7179)
An oasis for vegan foodies, Candle 79 dishes up a menu of fresh farm-to-plate menu complemented by an extensive list of organic wines, spirits and beers in its elegant eco-bar. The vegan ice cream made with nut butters gets rave reviews. For a cheaper option, head to Candle Café on the Upper East Side and Upper West Side.
Blossom (187 9th Ave; Tel:  212-627-1144)
Blossom's menu of global vegetarian cuisines includes signature dishes like Port Wine Seitan and herbed mashes potatoes, Cape Cod Cakes and Decadent Chocolate Ganache matched with organic wines and beer. Candlelit with a fireplace and a private dining room, the vibe is cosy and intimate. Blossom on Carmine offers a similar menu in the West Village and for a cheaper option head to Café Blossom on the Upper West Side.
V-note Organic Wine Bar & Vegan Bistro (1522 1st Ave; Tel: 212-249-5009)
Also owned by Blossom, V-note dishes up great vegan dishes and tapas with organic wines in an upscale bistro setting with live music on Sundays. 
Zen Palate (115 East 18 Street; Tel: 212 -387-8855; 663 9th Ave (at 46st); Tel: 212-582-1669 & 516 3rd Avenue; Tel 212-685-6888)
Zen Palate's menu is an Asian fusion twist on vegetarian. With three popular locations in Theatre District, Murray Hill and Union Square to choose from, the busy Union Square restaurant offers fine dining on the upper levels and also has a casual café-style restaurant on the first floor. Don't miss out on the sweet yam fries!
Going Japanese
In any city, Japanese is a great fallback for vegetarians and with some outstanding Japanese restaurants to choose from, New York is no exception. Some of the best include Decibel (240 E 9th St; Tel: 212-979-2733) – this subterranean bar is New York's original sake bar and offers almost 100 of Japan's finest sake along with a tasty line up of sashimi and tasting dishes. The Michelin star awarded Jewel Bako (239 E 5th St; Tel: 212-979-1012) and 15 East Restaurant (15 E 15th St, Tel: 212-647-0015) dish up traditional Japanese with an elegant, modern twist.