By Anneli Knight
Categories Australia, South Australia
Anneli Knight traverses the South Australian Desert.
You can travel through the dusty back roads of the South Australian desert without passing another vehicle, and that is a key to it's delight. It is the perfect space to let your imagination run wild through this dramatically spectacular part of the countryside.
The vast salt plains around Lake Eyre disappear into shimmering mirages on the horizon. The salt sparkles under the bright sunlight and you might imagine yourself to be an Arctic explorer, if it wasn't for the tropical climate.
Another highlight is the Painted Desert. This area is covered in flat-topped mesas that have eroded over 80 million years, giving way to soft sands fanning out across a brilliant range of swirling colours – lilacs, purples, oranges and pinks. It is best viewed at sunrise or sunset.
For holiday goddesses who like spa treatments, the desert provides. The Dalhousie Springs offer a giant pond of 37c water that sinks into your bones like a sauna or Turkish spa. It also promises to kick-start a solid exfoliation program after a good soak. Highly recommended under a midnight starlit sky.
Like every girl-scout, make sure you do some good preparation and planning before you skip into these sunsets. A reliable car, lots of drinking water and phoning ahead to let someone know where you're going and when you're expected to arrive are the bare minimum precautions to keep you safe.
Travel info: The sights mentioned in this story can all be reached within 200 kilometres of either Coober Pedy or Oodnadatta in South Australia.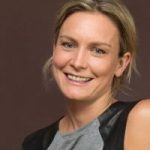 Anneli Knight is author of Flirting with Finance, contributor to The Age and Sydney Morning Herald in Australia and has recently completed her PhD in creative writing.
Read more on Australia, South Australia
Comments