Layne Beachley is a glamorous surfing world champion, a charity star,  a rock-star wife (married to Kirk Pengilly from INXS) and she's even turned up in a few movies.  But would you be brave enough to ask her to teach you to surf? Holiday Goddess editor and author Sue Ostler tried it in Sydney, Australia.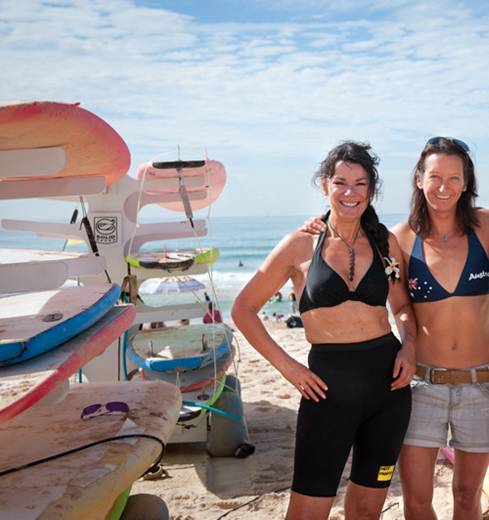 Winning the first prize of a Surf Lesson with Layne Beachley was the first shock. Seeing the total surfer babe and unbelievable bikini body in the flesh was another. "How do I get that?" I ask in awe, pointing to Layne's washboard stomach. "Easy" said Layne smiling. "You surf every day!"
With a feisty attitude and figure to die for, Layne Beachley has a commanding presence. She is the consummate professional and mentor – when Layne speaks, you listen.
"The biggest problem with women is that they're scared of making fools of themselves" she says as those piercing blue eyes go right through me. "They tend to be slow, and they tend to be scared."
"Really?" I say, feeling more Marge Simpson than Surfer Girl as I blink away the sand that I've kicked into my own face. As we carry our giant planks down to the beach, I curse the fact that I didn't spend Saturday afternoon nailing my surf moves, choosing instead to trawl Westfield shopping centre for industrial strength waterproof mascara and immovable Frangipani hairclips.
By some miracle, and because the waves are mellow, I overcome my nerves once we hit the surf and manage to stay on my knees for a split-second but from there, every effort I make to stand-up ends in a wipeout. "What's the biggest wave you've ridden?" I yell out to Layne. My mouth opens and closes with Layne's crisp answer: "50 foot".
"Am I your worst ever pupil?"
"No." says Layne. "I've had worse…believe it or not!"
Erm, thanks Layne!
Regardless, the two hour session with Layne Beachley changed my life, and here's why.
When I responded to the blogging competition I just won at Women In Focus (where I picked up the surf  lesson prize) I talked about reconnecting with that feeling in your gut that tells you what you're all about. And that's exactly what I did in my surfing lesson.
The simple fact is this: the larger-than-life legend  warrior and superwoman, Layne Beachley, exudes extraordinary vigour and health – which, combined with an unflappable Zen, takes her to a superhuman level. Seeing her in action made something inside me click – the realisation that life, energy and nature are vital to living and breathing. It also made me woefully aware that as an adult, Action Woman has left the building. And I find myself in the most sedentary of all vocations – a writer! Lovely stuff but…
Layne's superb physicality took me back to those things that rocked my world as a kid. She took me back to my teen aspirations. And as I battled the seemingly simple task of standing on a surfboard for a few seconds, I checked back into my old life, and revisited the fearless fifteen-year-old who flew along the beach on horseback, skated like a demon, and body-surfed with dolphins with reckless abandon.
Layne showed me that power and strength go hand in hand. "Get some strength girl!" she shouted as I flapped and flopped about trying hopelessly to paddle out.
High as a kite after the session ended, with endorphins and adrenalin charging through my body, I told Layne I'll be going back to the Manly Surf School. Thankfully she didn't laugh in my face or tell me there was more likelihood of a bag of pork dumplings learning how to surf – instead she said kind things about enthusiasm and dedication.
As the class finished, I hollered to Layne "You may not realise it," (battered,  black and blue all over from getting dumped, half-drowned and dragged into shore) "but I'm having the time of my life!"
Discover Sydney's most lady-friendly surfing lessons at Manly Surf School.
Photograph: Franki Pollick