The Pink Panther, Betty Boop, Trimline Phone, Bananagrams, The Rider-Waite Tarot Deck, Bobble Water Bottle, Jean Shin's installations, Jeremy Scott's winged Adidas, Betsey Johnson rock 'n' roll dresses – chances are that you've been touched by Pratt Institute's creative contributions without ever knowing where they came from. Story Vicki Arkoff.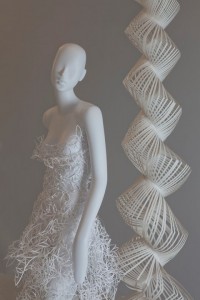 Located in the heart of Brooklyn, New York, Pratt Institute is recognized worldwide as an influential institution of art and design that has impacted the lives of millions since its founding. One of the Top 10 design colleges, in fact. In the past decade, the college has become a pillar of Brooklyn's cultural renaissance and a vital asset to its surrounding communities. Boasting an impressive roster of graduates and faculty such as Eva Hesse, Alex Katz, Ellsworth Kelly, Robert Mapplethorpe, Sylvia Plachy, Annabelle Seldorf, Peter Shelton, Robert Wilson, and Carlos Zapata, among many others, Pratt has indelibly touched many people's lives through its legacy of artistic endeavors and commercial designs.
It's a New York treasure and it welcomes visitors to its exhibitions, fashion shows (Vogue's Anna Wintour regularly checks out student designs), and other special public events.
To visit in person: Pratt is close to the Brooklyn Museum and the Brooklyn Academy of Music; one block down from Pratt, Myrtle Avenue is now home to many new restaurants serving different kinds of cuisine.  Check  the website for events and exhibits. The Pratt has three galleries open to the public and with free  admission:  The Rubelle and Norman Schafler Gallery:  200 Willoughby Ave., Brooklyn, NY, Chemistry Building, 1st floor; President's Office Gallery:  Pratt Institute, 200 Willoughby Ave, Brooklyn, NY, Main Building, 1st Floor; Pratt Manhattan Gallery:  144 West 14th St. New York, NY 10011.
To visit from afar:  Pratt Institute offers an online gallery of key designs here  –  and you can take a virtual tour by viewing the public television doc "Treasures of New York" which celebrates Pratt's 125-year milestone with an exclusive look at the history of the iconic art and design college.  Hosted by former Pratt student and celebrated writer Pete Hamill, the film explores the school's architectural and cultural impact from the Ford Thunderbird and Chrysler Building to creating the logos for IBM and "The Hunger Games."   View "Treasures of New York" at your leisure at www.thirteen.org/treasures-of-ny.
=