Ever since Covid, many restaurants in NYC have set up permanent outdoor seating, with shade for hot days and heaters for cold. Find a patio to transport you away, or whiz up to the roof to have the splendour of the city at your feet. My friend Sally Ann Lasson, the acclaimed cartoonist/author, went rooftop-hopping with me—it's much more fun to share the views.
SOMEWHERE NOWHERE NYC
The Renaissance Chelsea New York Hotel is located on a nondescript block in Chelsea, but if you walk by it you'll be missing an entrée to an absolutely fabulous rooftop spot, aptly named Somewhere Nowhere. There's an indoor garden lounge on the 38th floor, but the real fun is up on the 39th, where there's a huge open-air bar, a pool, a DJ, a lot of fantastic drinks (try the Cosmo Melon Rosé Sangria), light bites (like a warm lobster roll or Wagyu beef sliders), and drop-dead amazing views.
Reservations for the 39th floor are highly recommended, but you can make them when you arrive. It's just incredible up there.
Website:                      Somewhere Nowhere NYC
Location:                     112 W. 25th Street
How to Get There:      Take the M5, M6, or M7 bus to 25th Street, or the R or W train to 28th Street.
REPUBLICA NYC
If you're planning a trip to Cloisters or Fort Tryon Park at the northern tip of Manhattan, there's no better place to refresh yourself in the Inwood neighbourhood than at this haven of Dominican deliciousness. Head up to the roof, with its brightly coloured seating, festooned with trees laden with massive garlands. You'll instantly be in a good mood even before the food arrives.
Those on a budget will appreciate the Tres x 3 special, with an Appetiser + 1 Entrée + 1 Drink for $30, Monday to Friday from 4pm to 7pm. A goddess can never have enough camarones, paella, or mofongo, right?
Website:                      Republica NYC
Location:                     160 Dyckman Street
How to Get There:      Take the M4 bus or the A subway to Dyckman Street.
230 FIFTH
Yes, it's a scene—but it is, after all, one of the largest rooftop bars in Manhattan. The views are spectacular—the Empire State Building to the west and the iconic Flatiron Building to the south.
If you want to party, go at night, but if you want to have one of the best brunches, go on the weekend Bottomless Brunch—it's much cheaper than an evening tipple; $45 gives you 90 minutes of bottomless Mimosas, Bellinis and Coffee, as well as an Entrée like challah French toast soaked in Bailey's, a vegan Impossible burger, or banana pancakes.
The guest DJ's make the party even more fun. When the weather gets cold and blustery, from November to May, you can sit in one of the transparent and heated igloos and marvel at the views.
Website:                      230 Fifth
Location:                     230 Fifth Avenue at 27th Street
How to Get There:      Take M1, M2, or M3 bus on Fifth Avenue, or the R or W subways to 28th Street.
MOXY TIMES SQUARE
Long-time New Yorkers like moi will do whatever it takes to avoid the touts and throngs in Times Square (unless, of course, you're going to the TKTS booth to score some half-price Broadway tickets), but it is worth the schlep as long as you head a few blocks south to the rooftop space at the Moxy.
Going up to have a meal or drinks on the roof is a blast, especially if you like flowers. And pink. Really pink.In warmer months, you can lounge among the blooms in the The Pink Rose Garden, complete with over 10,000 roses.
You will definitely get your Insta followers in a lather once you go to the weekend brunch and share a photo of the Pink AF Pancakes Stack—topped with warm cotton candy. (Don't worry, there's plenty of normal brunch fare too.) If you're not queasy after that, sit on the mini carousel, bedecked with over 25,000 rhinestones, for a slow whirl. It's so OTT it's practically chic.
Website:                      Moxy Times Square
Location:                     485 Seventh Avenue
How to Get There:      Take the M42 bus or the N, Q, R, S, W, 1, 2, 3, or 7 subways to 34th Street or Times Square.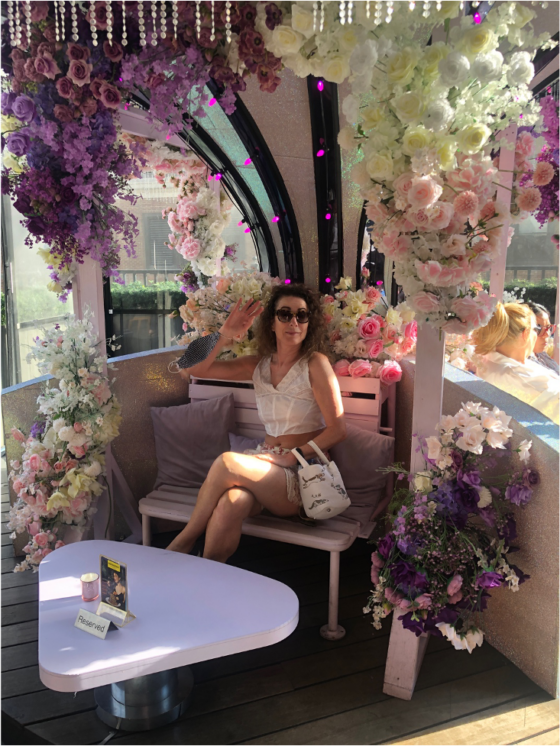 LOLO'S SEAFOOD SHACK
Let me give you some advice before you go to Lolo's Seafood Shack, one of the most popular and affordable seafood restaurants in Central Harlem. It might look tiny from the street, but there is a small, secret back yard filled with tables and locals in the know. Go when you are very hungry. Avoid drooling when you check out the menu. If you can't decide between the jerk chicken, the shrimp boil, the loaded fries with queso, or the conch fritters, go for the warm grain bowls, with broiled protein + dirty rice, sauce + broccoli. There are also plenty of veggie and vegan options, and you can walk a few blocks south and eat them in the northern fields of Central Park.
Website:                     Lolo's Seafood Shack
Location:                     303 W. 116th Street
How to Get There:      Take the M2 bus or the C or B subway to W. 116th Street.