Wild Swimming for Depression
Swimming outdoors in cold oceans, rivers, lakes and pools can lessen or cure depression.
The research on wild swimming has increased in 2020 and 2021 as more people have taken to the water instead of the gym or the public swimming pool. In Sydney, during the recent September COVID-19 crisis, women turned to Sydney Harbour swimming for the first time in years.
Australia in Autumn and Winter
You'll need neoprene swim gloves and booties – and courage – to swim all year round. Swimmers say a bathing cap or woolly hat helps. Yet, the evidence is in. Swimming in the wild changes lives for the better.
So, even in Spring and Summer, if you want to swim very early, after sunrise, the water might still be extremely cold – special measures are needed.
Bond Girl Swimsuits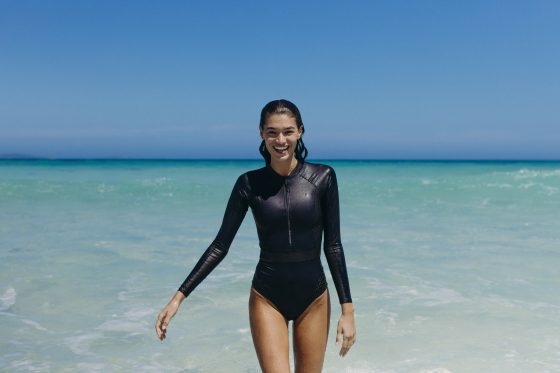 Sexier than a woolly hat or beanie, a 'Bond Girl' swimsuit made from wetsuit material (neoprene) with a zipper front, is easy to peel off and keeps you warmer. We love the Mirage Ultimate Long Sleeve Surf Suit (shown here) made by Rip Curl.
Cold Water and Low Moods
Mark Harper, a doctor at the Brighton and Sussex University Hospitals, in Britain, believes regular cold-water swimming reduces inflammation, which is associated with ailments from pain to depression. He is a cold-water sea swimmer himself. He believes you may not react as much to stress in daily life, if you swim outdoors regularly.
The Cold, The Cold
Kate Rew, founder of Britain's Outdoor Swimming Society, told The New Yorker, that, personally, she dislikes being cold, and considers British water temperatures an inconvenience, though not a crippling one.
"It's not ideal," she said. "The water can take your breath away, and you can't stay in as long as you want to. But you make your peace with it." She joked about how outdoor-swimming enthusiasts use cheery synonyms for "cold"—"bracing," "invigorating"—in order to make the activity "seem like something you want to embrace, rather than something you want to shy away from."
The Celsius Rule
The New Yorker comments, "The rule of thumb is to spend only as many minutes in the water as the number of degrees, in Celsius." So, in Sydney Harbour in September 2021, that is 21 celsius, or 21 minutes. In Tasmania, it's almost 12 celsius, so that's a faster swim. In January heat, the temperature of the water in Australia soars so you can reckon on at least a half-hour swim.
Wild Swimming Australia
You can find all the information you need about creeks, waterfalls, beaches, lakes and even hot springs across Australia at Wild Swimming Australia
Swim England
1.4 million adults found regular swimming reduced their symptoms of anxiety or depression. Swim England's large-scale poll found that the use of tranquillisers and anti-depressants dropped, for people who swam often.
The Outdoor Swimming Society
In Britain, the Outdoor Swimming Society has produced a critically acclaimed film, Chasing the Sublime.
No More Anti-Depressants
The British Medical Journal reported on an open water swimming cure for depression in a 24-year-old woman who swam once a week,  saw her mood improve after very swim; left her medication behind – and one year later, was still free of medication.  The study was performed by academics at University College, London; The University of Portsmouth and the University of Sussex: Open water swimming as a treatment for major depressive disorder
Currently, the University of Portsmouth is gathering testimonies from members of the Outdoor Swimming Society about not only improvements with depression, but also anxiety, arthritis, menopausal symptoms, MS and migraines.
Associate Professor of Psychiatry at McGill University, Australia – Rob Whitley – said cold-water swimming stimulated the vagus nerve, and increased circulation, which distributed nutrients and assisted the removal of toxins.
He added that it released endorphins and produced serotonin which increased happiness.
The Outdoor Swimming Society
The world's leading wild swimming organisation is in Britain. The Outdoor Swimming Society runs events, has a useful online shop and answers questions from doubters and beginners alike. If you want to know: "Is it safe?" Or "Is it legal?" Or "Will I get too cold?" they can point you in the right direction, no matter where in the world you are.
Mental Health and Swimming
Rachel Ashe, founder and director of Mental Health Swims, joined a New Year's Day swim in Scotland and found peace. "I ran into the sea with 100 others and afterwards felt this incredible calm I hadn't felt in years," she told me. "It was a life-changing moment. I now know that the calm I was feeling was my natural pain killers kicking in because getting into cold water is incredibly stressful for your body." She persisted.
Combining Wild Swimming and Walking
If you want to reduce or eliminate depression, you could also try walking with your wild swim. The Queensland University of Technology recently found that women who swam and/or walked for 150 minutes every week, or half an hour, every work day, had more energy, socialised more, felt better emotionally and had less pain. In an article titled Regular Walking Can Help Ease Depression, Scientific American recommended even moderate exercise.