London's Best Outdoor Pubs – Hammersmith 
London's two best outdoor pubs are a few steps away from each other, overlooking the River Thames at Hammersmith. They both have a fascinating history. Would you believe, Sylvia Plath as well as Minder?
Story and photographs: Jessica Adams. Additional photographs: Hao Dong Unsplash; Wikimedia Commons
Walk From The Blue Anchor to The Dove
This famous old bridge with its perfectly dated sign (typographic history) and lovely carvings, looks romantic in every season, but this stretch of London is for old friends – as well as lovers. Cornish Orchard Cider? Well, why not?
Blankets for Autumn Drinking
Tucked away in noisy, crowded London are stunning sunsets, blankets for Autumn drinking and long walks. In Spring and Summer, The Dove and The Blue Anchor can become popular at lunch and dinner, so you may want to take your wine outside but take your picnic hamper to lovely Furnivall Gardens (easily seen near the two pubs, above).
Hammersmith Bridge's ever-changing moods can be enjoyed at any time of year. The yachts and ducks are there, barring snow, whenever you are.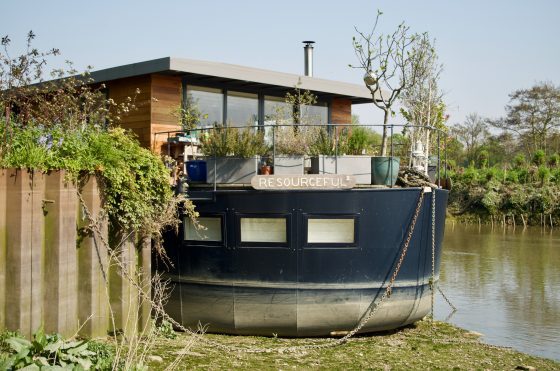 Drink or Dine at The Dove or Anchor
You can have a pre-dinner drink at either of these Hammersmith legends – then dine at either, too, if you book your table ahead (advisable as outdoor tables are now so popular in London).  The Dove is tucked away at the end of a small laneway, behind the river path. Nice for a walk in the fresh air and (book ahead) long and historic London views. Both The Dove and The Blue Anchor are separated by a mere stroll.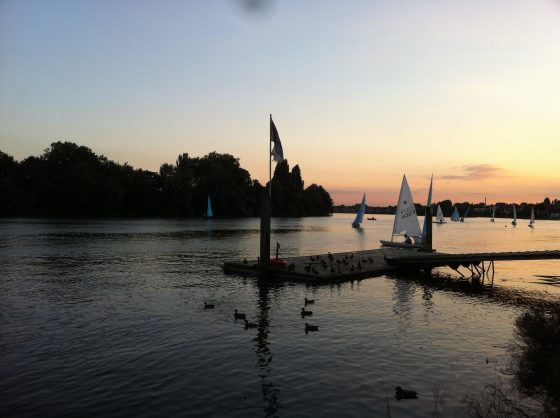 Minder and The Blue Anchor
The fish and chips, grilled fish or mussels at The Dove can be enjoyed while you watch the boats.  At The Blue Anchor you can have a pint and toast George Cole and Dennis Waterman, because the pub appears on the end credits of Minder.

The Historic Dove
You'll find this old pub at 19 Upper Mall, Hammersmith W6 9TA. Graham Greene and Dylan Thomas drank here.  The view of the annual Oxford versus Cambridge Boat Race also makes this pub special – and its cousin along the path.
Don't believe the story that Charles II drank here (he didn't) or that Rule Britannia was composed here. What we do know, from the former landlord George Izzard (1931-1965) is that Ernest Hemingway and Alec Guinness drank here, as well as the aforementioned Dylan Thomas (his was a mild-and-bitter). The Dove's little alleyway (below) holds a lot of secrets.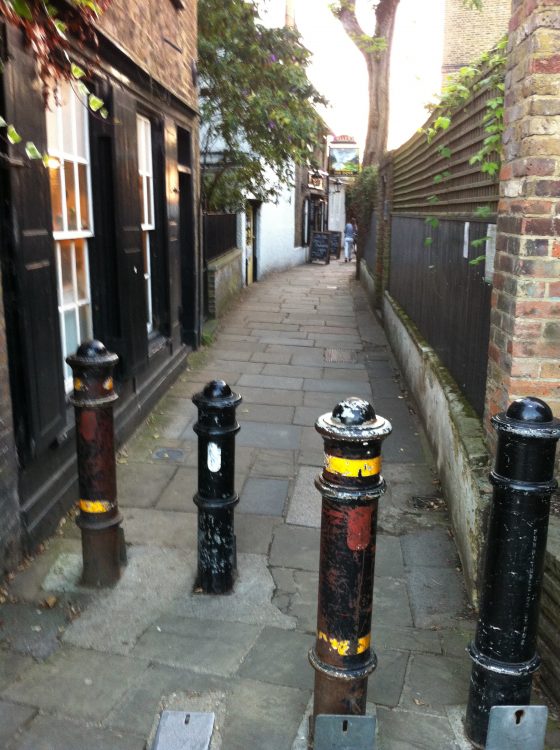 Sylvia Plath at The Dove
Izzard's book, One For The Road, is a goldmine of Dove history. Sylvia Plath visited here, when Izzard was the landlord according to Godfrey Smiths's book, The English Companion.  Outdoor dining in the Riverside Garden and on the Roof Terrace is hard to resist. Book here 
The Blue Anchor Sunday Roasts
This is a good place for a Meetup or just catching up with friends. The Sunday roasts are really popular. You can book here. There is outdoor Seating for 20 people, at 13 Lower Mall, Hammersmith, if you need the extra space.
The pub itself dates from 1722. Along with its role in the Minder end credits, where Arthur Daley and Terry McCann make their way over from Hammersmith Bridge – you'll also see The Blue Anchor in Sliding Doors, starring Gwyneth Paltrow.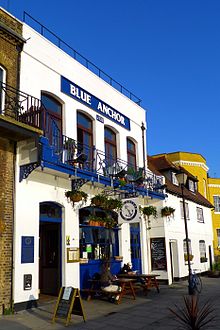 It really does feel like a parallel universe, speaking of sliding doors. This part of Hammersmith is historic but also strangely timeless, especially on sunset. This pair, the Dove and Anchor, must surely be London's two best outdoor pubs.
How you get here is obviously up to you, but there are plenty of places to lean or tie up your bicycle. If you want to make a day of it, then the Blue Anchor and The Dove are both nicely situated within walking distance of other London attractions.
Thinking and Drinking
These two historic watering holes are part of London's 'thinking and drinking' culture, dating from an age when writers like Dylan Thomas and Sylvia Plath would take a book, or at least a notebook, to their table of choice, and escape from their desk at home. Today, it's pretty hard to beat Hammersmith for outdoor pubs (The Dove and the Blue Anchor are just two among many) and this is one of the reasons why. The inspiration of history. And maybe the memory of the closing credits of Minder as well. And oh, that breathtaking old bridge, which has seen so. many thinkers and drinkers.